Tamil Nadu man delivers baby with help of YouTube videos, wife dies
A 28-year-old pregnant woman named Krithiga lost her life as her husband Karthikeyan and his two friends attempted to deliver her baby at home with the aid of YouTube videos in a smartphone in Tiruppur, Tamil Nadu.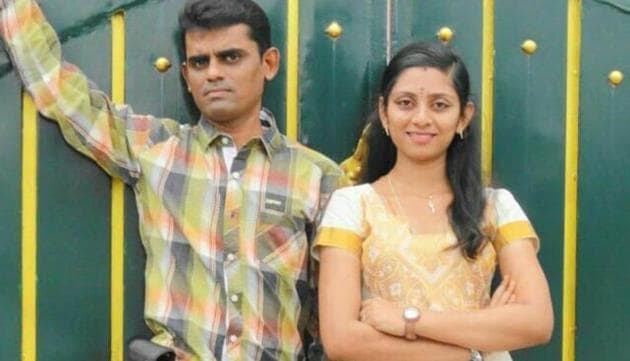 Updated on Jul 27, 2018 02:23 PM IST
Hindustan Times, Tiruppur |
M Manikandan
A 28-year-old pregnant woman died after her husband and his two friends attempted to deliver the child at home with the help of videos on YouTube in Tamil Nadu's Tiruppur, police said on Friday.
Police said Krithiga died on July 22 but the incident came to the fore only after corporation health inspector V Bhoopathi lodged a complaint with Tiruppur police station on Tuesday night.
When Krithiga went into labour on the July 22, Karthikeyan called his friends Praveen and his wife Lavanya to assist with the home delivery. Krithiga delivered a healthy baby girl but collapsed soon after due to excessive bleeding.
"Praveen and his wife Lavanya often canvassed to Karthikeyan and Krithiga on the natural and ancient type of medical treatments. Impressed by this, Karthikeyan tried home delivery for his wife," an officer at Nallur police station in Tiruppur district said.
The couple has a three-year-old child and decided not to visit any doctor when they came to know of the second pregnancy.
Sources said Krithiga was rushed to a government hospital where she was declared brought dead.
"We came to know of the issue through the doctors at the government hospital. Subsequently, we made an enquiry with Krithiga's father Subramanian. After he revealed the details, we lodged a complaint against Karthikeyan (34), Praveen (35) and his wife Lavanya (30) for attempting a home delivery," health inspector Bhoopathi told the Hindustan Times.
"When Krithiga's kin took her body to the crematory, the workers in crematory had asked for a proper certificate from the hospital. Krithiga's father Subramanian got the no objection certificate from Nallur Police and conducted the autopsy," Bhoopathi added.
Tiruppur Police on Thursday booked the three for causing death to the pregnant woman by denying her the hospital assistance.
Tamil Nadu health minister Dr C Vijaya Bhaskar warned people against taking such steps at home.
"Government hospitals provide top class treatment in Tamil Nadu when compared to other states. It is unacceptable to try home deliveries. The government will give severe punishment if anyone is caught committing such offences," said Vijaya Bhaskar.
The state health and family welfare department records show the maternity mortality ratio (MMR) has dropped to 66 between 2014 to 2016 from 111 from 2004 to 2006. Tamil Nadu ranks third in the list of states with low MMR after Kerala and Maharashtra.
Close Story