Train hit kills 3 elephants, including 2 pregnant females, in Assam
This is the second incident of wild elephants getting killed by trains in the region in recent months.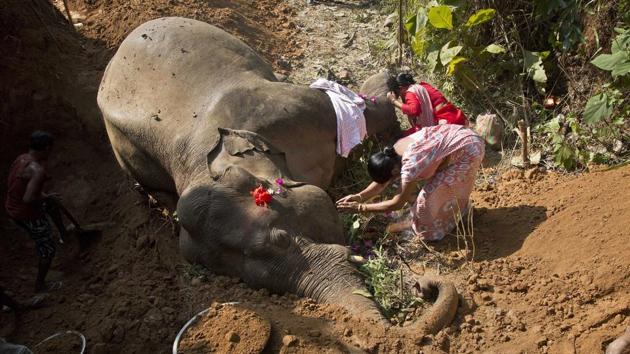 Updated on Dec 05, 2016 04:46 PM IST
Three wild elephants, including two pregnant females, were killed by a speeding train in Assam early on Monday, officials said.
A herd of elephants were crossing the railway track at Hojai in Nagaon district when they were hit by the Kanyakumari-Dibrugarh Vivek Express around 12:30am, nearly 137 kilometres from Guwahati.
"One of the elephants was a 4-year-old female, while 2 others were pregnant. One of them aborted a 2-month-old fetus after the accident and we found a 4-month-old fetus inside the other while conducting post mortem," local forest officer Shafiqur Rahman said.
According to eye witnesses, the train was moving at a very fast pace despite the area being frequented by wild elephants in recent weeks in search of food.
A group of nearly 25 elephants from the nearby hills of Karbi Anglong district were crossing the track about a kilometre away from a railway bridge at Jogijan when the accident happened.
"Since the past 10-12 days, a herd of nearly 60 elephants had been crossing the tracks daily in search of food in the paddy fields on the other side. We had held a meeting with railway officials and informed them about it," Rahman said.
Incidentally, a team of an anti-depredation squad, comprising forest employees and locals to prevent crop damage by the pachyderms during this time of the year, was present nearby. But they failed to prevent the accident.
Railway authorities maintained that the spot where the accident took place is not a notified elephant corridor and hence there was no speed restriction on trains passing through that section.
"This is the first time such an accident of train knocking down elephants happened at the location. Following the incident, all train drivers are alerted to avoid recurrence of such accidents," Pranav Jyoti Sharma, chief public relations officer of Northeast Frontier Railways said in a statement.
"It is a very sad incident. I have instructed officials of my department to hold meetings with their railway counterparts to ensure that such accidents don't get repeated," forest minister Pramila Rani Brahma told Hindustan Times.
This is the second incident of wild elephants getting killed by trains in the region in recent months. In September, two adult elephants were killed by the Dibrugarh-bound Rajdhani Express on the Assam-Nagaland border.
Reduced forest cover and inadequate food source are responsible for the increased incidents of man-elephant conflict being reported from across Assam, which has nearly 6,000 wild elephants.
Last month, a female elephant and her young calf fell into a deep pit at Yoga guru Ramdev's Patanjali mega food park in Tezpur district. While the calf was rescued, the female that sustained injuries during the fall died.
There have also been incidents of wild elephants getting electrocuted and poisoned by farmers desperate to protect their crops from the marauding herds of pachyderms.
Close Story
Personalise your news feed. Follow trending topics