Afghanistan earthquake jolts Delhi-NCR, child killed in Pakistan's Balochistan
Updated on Jan 31, 2018 06:15 PM IST
The earthquake on the Afghanistan-Tajikistan border was felt in the Delhi-NCR region as well as the Kashmir Valley.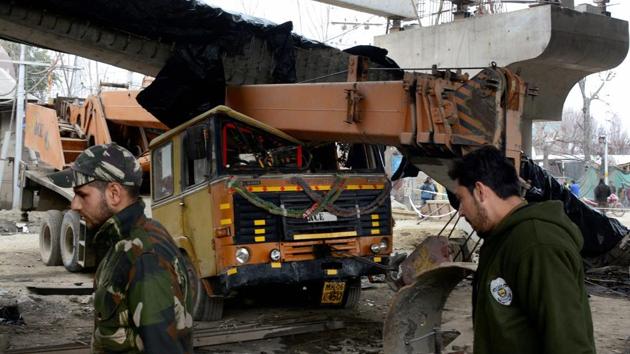 A strong earthquake of magnitude 6.1 jolted northern Afghanistan on Wednesday, the US Geological Survey said, with tremors felt as far away as New Delhi and Islamabad.
The quake hit at 12:37 IST near Afghanistan's northern border with Tajikistan in the Hindu Kush mountains at a depth of 191 kilometres (119 miles), the US Geological Survey said.
Northern India jolted
Tremors were felt in several parts of northern India, including Delhi-NCR, Jammu and Kashmir and Rajasthan. Panicked people were seen rushing out on streets after they felt the tremors.
"The epicentre of the quake was near the Afghanistan-Tajikistan border and occurred at a depth of around 190 kilometres," an official said in Srinagar.
There were no reports of any damage in India due to the earthquake.
In the national capital, Delhi Metro trains were halted briefly but services were not disrupted, said an official.
For many people in Kashmir, the tremors recalled the nightmare of the October 2005 earthquake that flattened wide parts of Jammu and Kashmir on either side of the Line of Control.
Officials snapped electricity supply briefly as a precautionary measure.
A girder of the under-construction Jehangir Chowk-Rambagh flyover in Srinagar slipped off pillars near Aloochibagh due to the earthquake, officials said.
No one was hurt in the incident.
The girder slipped off the pillars and fell on a crane which was used to put it on two pillars during the intervening night, minister for works Naeem Akhtar told PTI.
Panic in Afghanistan
Frightened residents ran out of homes and shops following the tremor in Kabul, where the city is already on edge after more than 130 people have been in killed in the last two weeks in a series of devastating militant attacks.
No casualties were immediately reported, the spokesman for Afghanistan's National Disaster Management Authority told 1TV.
The epicentre was near Afghanistan's Jarm, which was hit by a devastating 7.5 magnitude quake in October 2015 that triggered landslides and flattened buildings, killing more than 380 people across the region.
Afghanistan is frequently hit by earthquakes, especially in the Hindu Kush mountain range, which lies near the junction of the Eurasian and Indian tectonic plates.
Pakistan rocked
Across the border in Pakistan, homes, offices and schools were quickly evacuated Islamabad, Peshawar and Lahore.
At least one infant was killed and nine of her family members reported injured in southwest Pakistan's Balochistan province, following the collapse of a roof on their home, a local official said.
Pakistan officials also dispatched teams in Balochistan and nearby Khyber Pakhtunkhwa province to assess reports of damage.
Deputy commissioner Shabir Mengal said they were also incidents in other parts of Quetta where around a dozen people were injured due to building damages or collapses.
Rescue teams were also dispatched to the nearby Khyber Pakhtunkhwa province to assess reports of damage.
However, Pakistan's National Disaster Management Authority did not expect serious losses, a spokesman said.