Stranded Indians in Ukraine asked to reach Hungary, fill out forms urgently as last leg of 'Operation Ganga' begins
Updated on Mar 06, 2022 03:39 PM IST
Indian nationals in Ukraine need to provide their full name, email id, contact numbers in Ukraine as well as in India, and present location in the war-torn east-European nation, among others, in the Google form.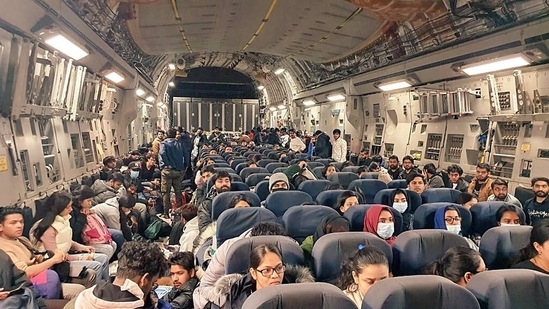 Written by Sharangee Dutta | Edited by Sohini Goswami
, New Delhi
The Indian embassy on Sunday issued fresh advisories for its stranded nationals in war-hit Ukraine as the evacuation process nears its final stages. In two separate statements posted on their respective Twitter handles, the embassies in Hungary and Ukraine asked Indians to contact the Hungary city centre and also fill out a Google form on an "urgent basis".
Full coverage of Russia-Ukraine conflict here
The embassy in Hungary said India has commenced its last leg of 'Operation Ganga', the government evacuation mission from war-hit Ukraine via neighbouring nations. It asked students living in their own accommodation other than the ones arranged by the embassy to reach the Hungary City Centre in Budapest between 10am and 12pm local time (2.30pm and 4.30pm IST).
The embassy in Ukraine asked all those who were yet to leave the conflict zones to fill up a Google form urgently for their evacuation from the east-European nation.
In the form, Indians need to provide their full name as available in the passport, email id, age, gender, passport number, present location and exact address of the same in Ukraine, contact numbers in Ukraine as well as in India, and additional number of Indians staying with them.
India has so far brought back about 13,700 of its citizens from Ukraine on special flights under Operation Ganga that was started soon after Russia invaded the east European nation more than a week ago. The government has also roped in the Indian Air Force (IAF) for the mission. Since the Ukrainian airspace has been shut for civilian flights following Moscow's military offensive, which entered the 11th day on Sunday, India has been evacuating its stranded nationals via land routes of Moldova, Slovakia, Romania, Poland and Hungary.
Addressing an event in Pune earlier in the day, Prime Minister Narendra Modi said that it is due to India's "growing influence" that "thousands of students" were brought home from the war zone of Ukraine.
(With inputs from PTI)