Uttarakhand minister draws flak for saying app can help regulate rainfall
Updated on Aug 31, 2021 06:46 PM IST
Uttarakhand minister for disaster management Dhan Singh Rawat copped flak by opposition leaders for a video where he was heard claiming that the state government was considering using "an app that could increase or decrease the intensity of rainfall as per requirement"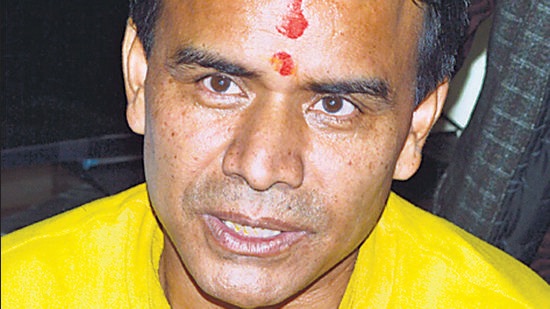 On Monday, Uttarakhand minister for disaster management Dhan Singh Rawat copped flak by opposition leaders for a video where he was heard claiming that the state government was considering using "an app that could increase or decrease the intensity of rainfall as per requirement." However, while there is no "app", a three member expert panel has been formed by the department, headed by the director of the Uttarakhand Space Application Centre(UCAS) to study technology developed by Dubai based Russian scientist Yuri Tkatchenko that can reportedly affect rainfall patterns using "ion generators."
Rawat made the statement while speaking to a group of people in a gathering few days ago while speaking on the disaster management steps being taken by the state government amid heavy rains in state since last one week. The minister in the video circulated on social media could be purportedly heard saying, "Now there's an app that has come out which can increase or decrease the intensity of rain in a place where it is expected to rain heavily and cause damage to life and property."
"I will soon give a presentation to the Centre on the same. If it allows, then this can be a boon for many other states of the country," stated Rawat in the video.
Congress national general secretary and former chief minister (CM) of Uttarakhand Harish Rawat while taking a jibe at Dhan Singh, shared the video on Facebook stating, "The app that Dhan Singh Rawat is talking about to give a presentation before the Centre would help to solve the challenges faced by the country and its farmers due to uncertain rains every year."
"Now, CM Pushkar Singh Dhami should recommend his name for Bharat Ratna award for this," said Rawat.
Another Congress state leader and party state spokesperson Garima Dasauni too ridiculed the minister and said, "There should be no dearth of entertainment in the state. After former CMs Trivendra Singh Rawat and Tirath Singh Rawat, BJP leaders Ajay Bhatt and Bansidhar Bhagat, the command has been taken by Bharat Ratna Dhan Singh Rawat."
"Now Rudraprayag's rain will occur at Rudrapur and Dharchula's rain will occur at Dehradun. Where did these leaders get so much wisdom?, " said Dasauni.
When contacted, Rawat laughed off the ridiculing of Opposition and said, "They are oblivious of the existence of such a technology. My department was apprised of that about a month ago after which we formed a panel of three experts led by director of Uttarakhand Space Application Centre (USAC) MPS Bisht to submit a report on the same to us after proper analysis."
"I am yet to receive that report after which following a detailed evaluation, I would go to the Centre to explain it for further action in direction to acquire it," said Rawat.
On the viral video, he clarified that he "didn't make the statement to any media or official gathering." "A few days ago, I was with four-five people in an informal gathering. We were discussing disaster management in the state when I also brought the new technology in the discussion. Someone among the gathering was recording by conversation. He put that video on social media but after editing the full context of my statement. I never talk about something without knowing it," said Rawat.
Corroborating Rawat, Director USAC MPS Bisht, informed that the government had earlier formed a panel of three experts led by him to study the technology known as "magnetic ion generator" while planning to implement in the state to fight forest fires.
HT had earlier reported the development on the technology on August 7.
Also Read | AAP says Char Dham Board will be scrapped if party assumes power in Uttarakhand
"Minister Rawat was actually talking about the above-mentioned technology but he mistakenly used the work app for which he is being unnecessarily mocked. This technology actually does exist in the world and is developed by a Dubai based senior Russian scientist named Yuri Tkatvhenko Pavlovich . It is already used on several occasions in Dubai to create rainfall and or to push away the clouds formed in the atmosphere to cause cyclone," said Bisht.
He said as asked by the government the three-member expert panel which includes one expert each from Nainital based Aryabhata Research Institute of Observational Sciences and Dehradun centre of India Meteorological Department have submitted their report to the government about a week ago.
"We have submitted it after proper analysis and with reactions from other experts to the secretary of disaster management department. Now it is up to the government to take any decision on its implementation," said Bisht adding a representative of the Russian scientist is also present in Dehradun at present.
Informing about the technology Bisht said, "Under this technology, magnetic ion generating plants are installed which artificially fuses the ions of hydrogen and oxygen present in the atmosphere. Their fusion then results into the formation of water which in turn increases the density of water droplets in freely moving clouds in the atmosphere, making them to rain over a desired area."
He said, "if implemented the technology which has not even gone to big countries including China and USA, Uttarakhand would be the first state in India to use it."
Claiming the new technology to be far superior to the existing cloud seeding one, Bisht said that the former is not "harmful to the environment but the latter one is."
"In cloud seeding which is often used by China to artificially create rains, chemical elements are dispersed in the atmosphere to create rains which is harmful to the environment. But in this technology, the existing ions of hydrogen and oxygen are artificially fused without use of any harmful chemicals," said Bisht.
Bisht also said that apart from fighting forest fires, the technology could also be used in fighting droughts.
"In our state, sometimes people of rural areas migrate due to severe water problem. This technology could help in stopping that migration by creating artificial rains over that particular village as it has a range of about 1000km," said Bisht.