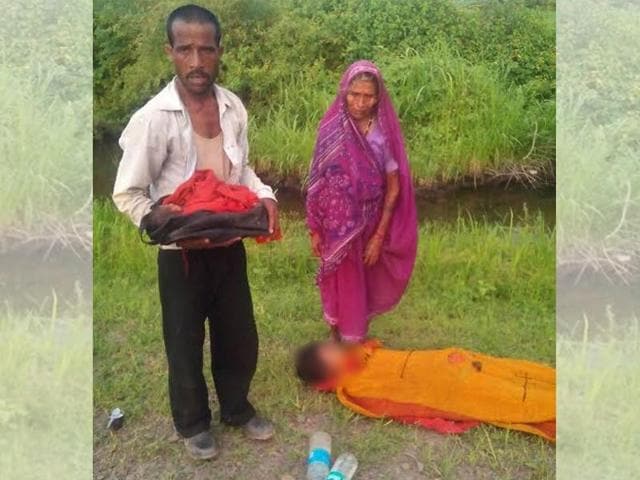 MP: Man with 5-day-old baby forced to get off after wife dies in bus
The incident happened at Chainpura Parsai village on Thursday, but came to light on Saturday.
Hindustan Times | By Anupam Pateriya
, Sagar
UPDATED ON AUG 27, 2016 10:17 PM IST
A man, along with his five-day-old baby and elderly mother-in-law, was allegedly forced to get off a bus on which his wife died in Damoh district of Madhya Pradesh, an allegation refuted by the bus staff.
After getting off, they had to wait for an hour before getting assistance.
The incident happened at Chainpura Parsai village on Thursday, but came to light on Saturday.
Ram Singh Lodhi, from Goghri village in Chhatarpur district, was taking his wife Malli Bai (35), who had delivered a baby five days back, to Damoh district hospital for treatment. But her condition worsened and she died on the way.
Sources said when bus conductor Sharda Prasad, driver Amar Lal and helper Dharmendra came to know about the death, they stopped the bus near Chainpur Parsai in Narsinghgarh around 5.30 pm and told Ram Singh to get off the bus with his wife's body.
Repeated pleas by Ram Singh and his mother-in-law went in vain and they were forced to deboard the bus.
The registration number of the bus is MP 34 P 1134.
After nearly an hour's wait, two advocates Mritunjay Hazari and Rajesh Patel, who were returning to their homes in Damoh, stopped and heard Ram Singh's story. The advocates called 100, but did not get any response, following which they arranged a private vehicle to take them to Chhatarpur.
However, the bus staff claimed that Ram Singh had got off the bus willingly and they did not force him.
The two advocates complained about the incident to the state human rights commission, DGP and regional transport officer.
On Thursday, a tribal man in Odisha's Kalahandi district carried his wife's body on his shoulders, accompanied by his 12-year-old daughter, as hospital authorities allegedly did not provide a mortuary van or an ambulance.
Damoh superintendent of police Tilak Singh said a case under sections 304, 336 of IPC has been lodged against the driver and the bus conductor.
"Both of them have been arrested. The bus has also been seized. A police team was sent to village Goghri and the statement of Ram Singh Lodhi was recorded," he said.
Singh also said that the driver's licence will be cancelled following state home minister Bhoopendra Singh Thakur's directive.
Close