Yadav family feud: Shivpal visits Akhilesh's official residence, sparks talk of truce
In their first one-to-one meeting since the vertical split in Samajwadi Party, Shivpal Yadav on Friday held talks with defiant nephew Akhilesh at his residence here on a "compromise formula" for a possible patch-up.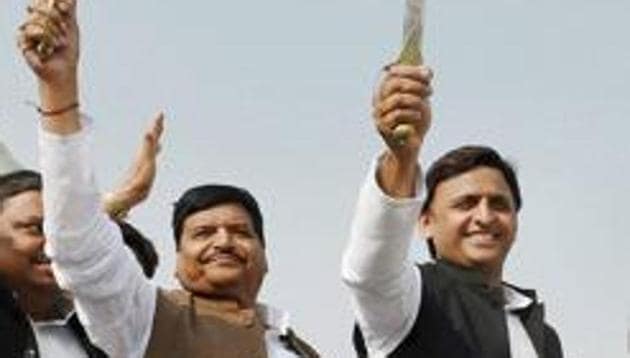 Updated on Jan 06, 2017 04:24 PM IST
Lucknow, Hindustan Times |
HT Correspondent
Shivpal Yadav on Friday made a brief stop at 5 Kalidas Marg, the official residence of UP chief minister Akhilesh Yadav, sparking talks of a possible patch-up in the split ruling Samajwadi Party.
Party insiders were tight-lipped on what transpired, and if at all Shivpal met with his nephew Akhilesh.
Shivpal later met his brother Mulayam Singh Yadav.
According to sources, Akhilesh made clear that he would not attend any meeting with his father or uncle in which Amar Singh, a confidant of Mulayam's, was present.
However, other sources privy to the morning's developments did not rule out the possibility of resignation of Rajya Sabha MP Amar Singh, the "outsider" whose return to SP triggered a storm in the ruling party in Uttar Pradesh, under a "compromise formula".
Another possibility could be the resignation of Shivpal from the post of state SP chief, a charge held by the chief minister before the family feud broke out.
"Political standing does not lie in numbers. Standing is of a man... Outsiders don't hurt, it is our own who hurt us. We we fight with our own, we end up in dust,"Amar Singh said after a meeting at Shivpal's residence. "We – Shivpal and I – are well-wishers of CM (Akhilesh)."
Read | History repeating itself? Mulayam followed Lohia, Akhilesh his father
An inkling of a patch-up came late last night when Akhilesh planned to go to the Lucknow airport to receive his father, but dropped the idea when he came to know that Amar Singh was accompanying him in the chartered flight.
Soon after Mulayam's return from Delhi, his apolitical brothers Abhayram Yadav and Rajpal Yadav met him, apparently to end the strife in the family.
During a meeting with SP MLAs, MLCs, MPs and senior leaders to collect their signed affidavits for submission before the EC, Akhilesh had on Thursday asked his father to give him Samajwadi Party's control for three months.
The meetings Shivpal had with Akhilesh and later with Mulayam this morning reflected hectic behind-the-scene negotiations as the Akhilesh camp prepared to hand over documents to the EC to claim that it was the "real" Samajwadi Party.
Leader of the Akhilesh camp, Ramgopal Yadav, claimed they have collected signatures of 212 of the 229 MLAs, 56 of the 68 MLCs, 15 of the 24 MPs and a majority of the 5,000 delegates, "making it crystal clear as to which was the real SP".
(With inputs from agencies)
Read | Akhilesh Yadav rejigs party, looks all set with UP polls preparation
Close Story