YS Sharmila buys Telangana CM KCR a new pair of shoes. 'If it doesn't fit...'
Feb 02, 2023 06:40 PM IST
YS Sharmila was earlier attacked and detained in November last year for her protest march against Telangana chief minister KCR and his party.
YS Telangana Party president YS Sharmila, sister of Andhra Pradesh chief minister YS Jagan Mohan Reddy, on Thursday bought a pair of shoes for Telangana chief minister K Chandrashekar Rao and threw a challenge to walk with her for a day to know the plight of the people as Sharmila is at the last leg of her Praja Prasthanam padyatra.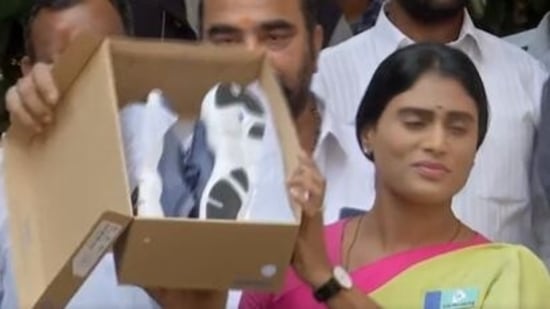 "Today, I challenge the Chief Minister to walk with us for a full day and if you show us that every person in the state is happy and has no problems for you to solve, then I will withdraw from politics. I'm gifting this brand new pair of shoes to walk. This is as per your size and there is a bill to exchange in case it doesn't fit," the daughter of the former chief minister of undivided Andhra Pradesh YSR said.
"If in fact the farmers are reeling under poverty and there are problems, then KCR should resign and make a Dalit a chief minister like he promised," Sharmila said.
In November, Sharmila had to call off her padayatra as she came under attack from the workers of the Bharat Rashtra Samiti. Sharmila was detained twice during the tense situation.