Muthalik joins BJP, is shunted out after 5 hours
The Bharatiya Janata Party (BJP) cancelled the membership of Pramod Muthalik, the controversial chief of Hindu outfit Sri Ram Sene, within hours of his induction into the party on Sunday.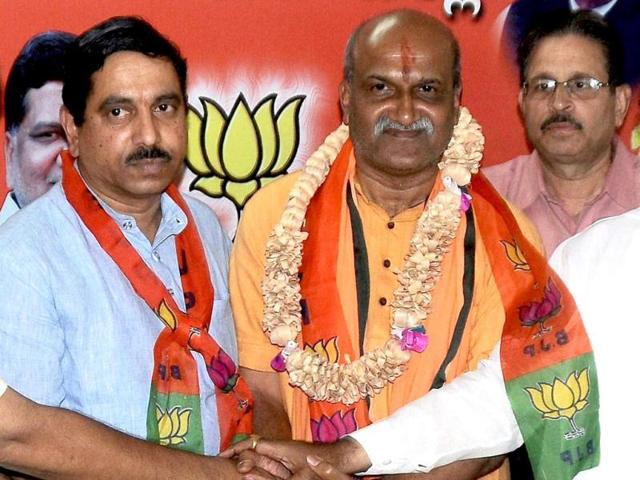 Updated on Mar 24, 2014 10:07 AM IST
Hindustan Times |
, Bangalore/new Delhi:
HT Correspondents
There were several red faces in the BJP which on Sunday threw out controversial Hindutva leader Pramod Muthalik, whose Sri Rama Sene molested women in a Mangalore pub in 2009, within five hours of his induction following outrage from within and outside the party.
The right-wing Hindu leader, who has more than 45 cases pending against him, was named Karnataka unit's vice-president designate and welcomed into the BJP fold at a ceremony in Hubli by former CM Jagadish Shettar and state unit chief Pralhad Joshi at noon.
The party leadership, which claimed to be taken by surprise by the "unilateral" decision of the Karnataka unit, swung into action as social media buzzed with the news over its latest recruit, who is also wanted by the police in 12 districts of Karnataka. Muthalik's fate was sealed once BJP's prime ministerial candidate Narendra Modi expressed his displeasure.
"My single point agenda is I will not entertain this," Modi is understood to have told party chief Rajnath Singh and Ananth Kumar, the BJP national general secretary who hails from Karnataka.
Muthalik, also notorious for hounding youngsters on Valentine's Day, had in November last announced his intention to contest the Lok Sabha election against Pralhad Joshi from Dharwad.
Read: Allies take sides as BJP's internal unease grows
Joshi reportedly wanted Muthalik in the fold to avoid a split in the BJP votes. Muthalik campaigned against the BJP in the assembly polls, hurting it significantly in some pockets in the coastal areas.
Muthalik, once the South India convener of the Bajrang Dal, earlier walked out of the press conference called to announce his return to the Sangh Parivar. He was upset with reporters' "hostile line" of questioning.
But before walking out, he announced that the Ram Sene, which had fielded six candidates in Karnataka, had been dissolved. "I want Narendra Modi to become prime minister. I joined to prevent a split in the Hindutva vote," he had said.
Goa CM Manohar Parrikar also spoke to Rajnath Singh, requesting him not to approve the decision of the Karnataka unit. Parrikar feared that Muthalik, also facing charges of promoting enmity between two communities, in the BJP ranks would create a suspicion in the minds of Christians who have voted for the party in recent times. Even Modi has made several efforts to reach out to Christians ahead of the Lok Sabha election.
Read: Pramod Muthalik enters and exits BJP in a day, trends on Twitter
Singh also spoke to party leader Arun Jaitley and organisational secretary Ramlal who then spoke to Joshi, asking him to issue a statement categorically stating the party rejected Muthalik's entry.
"The party has rejected Muthalik's entry and instructed the state unit of the party to do the needful," BJP spokesperson Nirmala Sitharaman said. At around 5pm, Muthalik's brief stint with the BJP was over.
Close Story