No Jagan for byelections, in jail till June 11
YSR Congress chief YS Jaganmohan Reddy was Monday remanded in judicial custody till June 11 in a disproportionate assets case, ruling him out of the campaigning for the crucial June 12 bypolls. HT reports Cong in a tizzy | Jagan Reddy arrested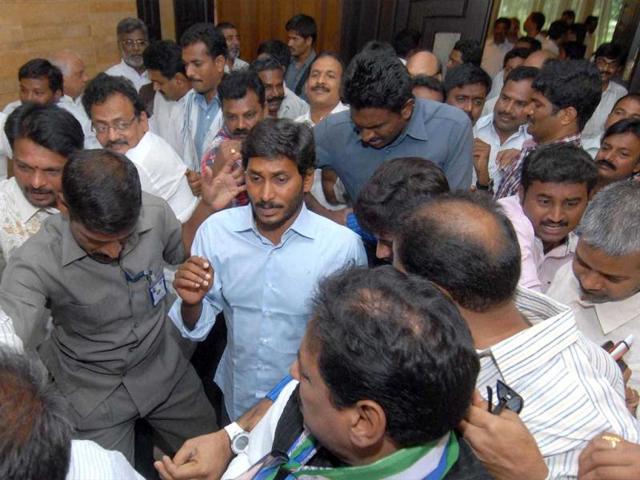 Updated on May 29, 2012 01:23 AM IST
YSR Congress chief YS Jaganmohan Reddy was Monday remanded in judicial custody till June 11 in a disproportionate assets case, ruling him out of the campaigning for the crucial June 12 bypolls.
Eighteen assembly segments and a Lok Sabha seat are to go the polls on June 12. Reddy's jail stay could have a big impact not only on the fortunes of his party but also on Andhra politics, with the Telugu Desam Party expected to make gains.
The CBI, which arrested Reddy on Sunday after two days of questioning, sought his custody but the special court hearing the case rejected the plea.
Reddy amassed wealth misusing his father late CM YS Rajasekhara Reddy's position, the agency told the court. His companies got investments worth Rs. 1,200 crore and he Rs. 300 crore in bribes, it said. A part of the money was routed through hawala channels, the CBI said.
Mother Vijayalaxmi alleged that Congress president Sonia Gandhi orchestrated the arrest to prevent Reddy from campaigning in the byelections.
Reddy was taken to Chanchalguda central jail —Hyderabad's equivalent of Delhi's Tihar jail. With his special prisoner status, the richest member of Parliament will be allowed a separate room, TV and food from home.
The bandh protesting his arrest received lukewarm response in the state, barring Reddy's native Rayalaseema. As many as 300 people were arrested, more than 200 party activists taken into preventive custody and senior leaders put under house arrest. A driver was killed when three buses were stoned in Rangareddy district.
Close Story