Please, Mister Postman: Guyana has a stamp on Holi, but India doesn't
The South American country, which has a sizeable Bihari population, issued a postage stamp on Phagwah — depicting Lord Krishna celebrating the festival of colours with gopis — way back in 1969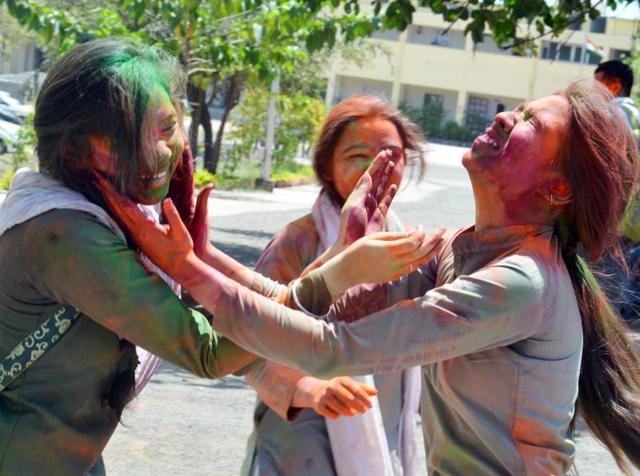 Updated on Mar 23, 2016 06:31 PM IST
India may not have a stamp on Holi, but that's no reason why Guyana shouldn't have one.
The South American country, which has a sizeable Bihari population, issued a postage stamp on Phagwah way back in 1969. Printed in the denominations of 6, 25, 30 and 40 cents, it depicts Lord Krishna celebrating the festival of colours with gopis.
Ironically, India — where Holi is a red letter day and a notified government holiday — makes no such postal acknowledgment of the festival of colours. Philatelist Pradip Jain says that the closest India Post ever came to acknowledging the festival was when it issued a special stamp on Children's Day in 2002. The stamp, based on a school student's painting, captured the spirit of Holi.
However, a special cover on the festival was issued by the Bihar postal circle in 2013, said Jain, who is a fellow at the Royal Philatelist Society in London and a former member of the Indian government's philately advisory committee. Explaining that the special cover was just a thematic representation of the occasion, he said, "The special cover is different from a first-day cover, and is not a stamp. The pictorial representation on the special cover (envelope) is different from the one on the stamp. Besides, the special cover is region-specific and not pan-India, as is the case with the stamp."
Read: Fashion inspiration: When it's Holi, white's always right!
Another special cover on Lathmar Holi of Mathura was also issued by the Uttar Pradesh postal circle last year, said Jain. "As the name suggests, the festival involves celebrating Holi with sticks, like the Dandiya dance in Gujarat," he added.
Lathmar Holi is celebrated in Mathura and the neigbouring towns of Barsana and Nandgaon five to seven days before the actual festival.
Efforts to contact India Post secretary Kaveri Banerjee went in vain as she was reportedly busy attending a series of meetings through the day. Another senior officer with the postal department said on the condition of anonymity: "We have stamps on festivals of India, but I cannot confirm if we have one on Holi. I will need to check."
Jain, however, is positive that no such stamp exists. "I requested the communications minister as well as the India Post secretary on several occasions in the past for a stamp on Holi, but to no avail," he said.
Close Story
Personalise your news feed. Follow trending topics