Silicon Valley hails PM Modi's 'Digital India' initiative
Sep 27, 2015 11:07 AM IST
Prime Minister Narendra Modi met with Indian-born CEOs Satya Nadella and Sundar Pichai of Microsoft Corp and Google Inc, respectively, before a dinner with 350 business leaders on Saturday evening (Sunday morning, India time).
Prime Minister Narendra Modi secured an impressive endorsement for his 'Digital India' initiative, as CEOs of some of the top global tech firms like Apple, Google, Microsoft and Qualcomm announced significant plans for India.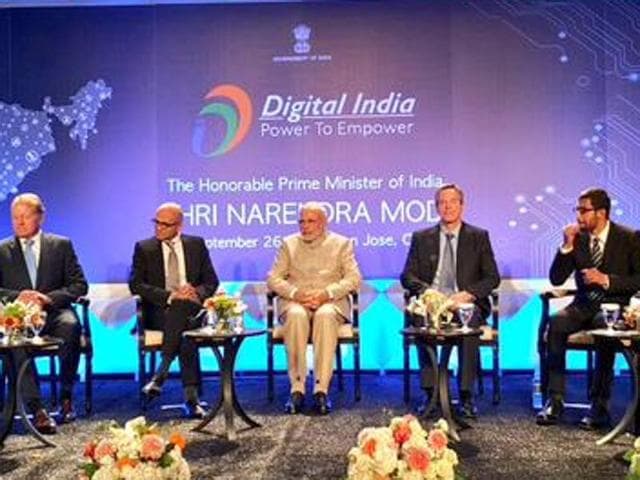 This was during the Prime Minister's meetings with Apple chief executive Tim Cook, Microsoft's Satya Nadella, Google's Sundar Pichai, Qualcomm's Paul Jacobs, Cisco's John Chambers, Adobe's Shantanu Narayen and TiE's Venk Shukla. They also joined him later for "Digital India" dinner.
"I see technology as a means to empower and as a tool that bridges the distance between hope and opportunity," Modi said at the dinner engagement to conclude what was a packed day, having arrived in the morning from New York.
"Social media is reducing social barriers. It connects people on the strength of human values, not identities," said the PM, an avid user of the medium himself including his penchant for selfies with his hosts and guests. "Facebook, Twitter, Instagram, they are the new neighbourhoods of our new world," he said.
"Since my government came to office we attacked poverty by using the power of network and mobile phones to launch new era of empowerment," Modi said, adding: "In this digital age, we have an opportunity to transform the lives of people in ways that were hard to imagine a couple of decades ago."
Earlier, a host of tech leaders said they were upbeat on engaging with India better.
"India under the prime minister's leadership is moving in the right direction with 'Digital India'," Jacobs said, announcing an immediate investment of $1.5 million for innovation labs in the country to support product designing.
"Now it is time for us to collectively empower people from all over the world," Nadella said, adding that Micosoft intended to partner individual states, and tech companies in this regard.
Nadella gave the example of Surat where Microsoft was working with municipalities on data analytic systems.
Pichai, had a take on another of Modi's initiatives - that to foster, nurse and promote entrepreneurship. "India is the fastest growing 'start-up nation' in the world," the Google chief executive said.
Modi earlier began a two-day trip to Silicon Valley on Saturday with a visit to "green" car maker Tesla Motors Inc and a meeting with Apple Inc's CEO, Tim Cook. Modi, 65, is the first Indian leader to visit the US West Coast in more than 30 years. His trip follows a US visit by China's president, Xi Jinping, who met with several tech leaders in Seattle earlier this week.
Read: PM Modi kicks off tech tour in Silicon Valley with Tesla visit
Modi hopes to attract funds and skills from US innovators to help India's burgeoning startup scene grow, and he will seek to encourage some Indians who have thrived around San Jose, California, to bring their knowledge back home.
Tesla Motors' iconic CEO Elon Musk on Saturday gave PM Modi a tour of the company's trend-setting electric car plant in Palo Alto as he arrived for the tech tour of Silicon Valley.
Modi, on a 36 hour whirlwind tour of Silicon Valley to give a strong push to his drive for technological innovation in India, visited the Tesla Motors plant to see the path-breaking inventions on renewable energy.
"Prime Minister Modi and I talked about electricity generation and how there are ways to skip ahead with it as with cellphones," Musk, the company's principal engineer, inventor and investor, said later.
"Engines of the future. PM @narendramodi takes a tour of @TeslaMotors, leading builder of electric cars," tweeted External Affairs Ministry spokesperson Vikas Swarup.
Much of Modi's agenda will also focus on connecting with Silicon Valley's Indian diaspora. Shortly after his afternoon arrival, he also met with the Indian community at his hotel and later met with members of the Sikh community.
Apple has a unique relationship with India as its founder Steve Jobs went to India for inspiration, Apple CEO Tim Cook said in a meeting with Modi.
Read: Apple CEO Tim Cook meets Modi amid PM's Digital India push
"We have a unique tie with India. Our founder Steve Jobs went to India for inspiration," external affairs ministry spokesperson Vikas Swarup quoted Cook as saying.
Cook, who met Modi at his hotel, was among the first top CEOs to meet the premier on the first day of his arrival.
"Dialling India for Digital," Swarup added.
While Modi is likely to be received like a rock star in an area that is home to many of the world's biggest high-tech firms, some groups have protested his arrival and urged tech companies to boycott the visit.
The groups include Sikhs for Justice, which has called on its members to picket Facebook Inc headquarters during a Facebook town hall, and the Alliance for Justice and Accountability.
With inputs from IANS and Reuters
"Exciting news! Hindustan Times is now on WhatsApp Channels
Subscribe today by clicking the link and stay updated with the latest news!"
Click here!
Get
Latest India News
along with
Latest News
and
Top Headlines
from India and around the world