PoK will remain with Pakistan and J-K with India: Farooq Abdullah
Updated on Nov 28, 2015 12:19 AM IST
Former Jammu and Kashmir chief minister Farooq Abdullah said on Friday Pakistan Occupied Kashmir will remain with Pakistan and Jammu and Kashmir with India, adding that dialogue was the only option to resolve the issues between the two countries.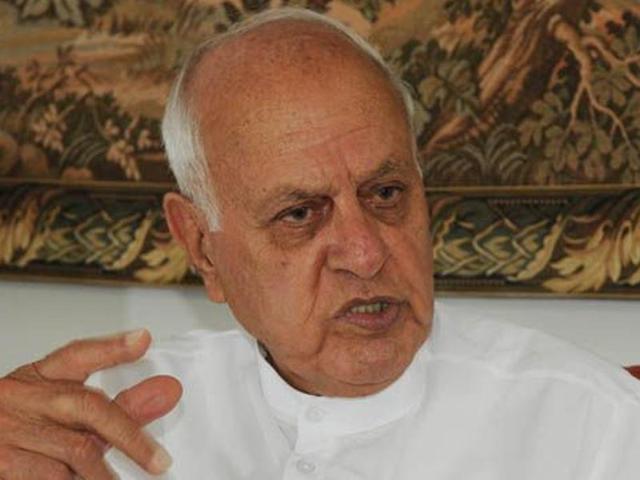 Hindustan Times |
, Jammu
Vikram Sharma
PoK would remain with Pakistan and India should understand it, former Jammu and Kashmir chief minister Farooq Abdullah said on Friday, triggering a huge controversy.
"The Pakistan-occupied Kashmir will remain a part of Pakistan and Jammu and Kashmir will remain a part of India. We need to understand it," he said, adding dialogue was the only way forward for the two countries.
Prime Minister Atal Behari Vajpayee favoured the arrangement and had also proposed it to Pakistan President Pervez Musharraf when he visited the neighbouring country in 1999, Abdullah said. His National Conference party was then a part of the BJP-led NDA government in which he was a minister.
"I know when Vajpayee went to Lahore...he told me that he had proposed to Musharraf to take that part (PoK) and let us keep ours, and let us correct those lines..., but they did not agree to it," the 78-year-old maverick leader said.
"Today Pakistan is agreeing to accept it, but we have to start the dialogue," Abdullah said.
Vajpayee's Lahore visit was hailed as a milestone in bilateral ties but within four months hostilities broke out after Pakistan soldiers captured Indian heights in the border state, leading to what has come to be known as the Kargil war.
"Four wars have taken place between India and Pakistan and many lives have been lost without anybody's gain. War is no solution and only dialogue can solve the problem," the NC leader told mediapersons.
The BJP reacted sharply. Abdullah's statement was against the Constitution and the country would never accept it, senior leader and J&K deputy chief minister Nirmal Singh said
"The 1994 Parliament resolution clearly states that the PoK is constitutionally a part of India and efforts will be made to get it constitutionally," he said. "I don't know what prompted him to issue such a controversial statement."
Former chief minister and Abdullah's son Omar said the reactions to his father's comments had taken him by surprise. "I am amazed that the channels are treating my father's views as though they are something he's never said before," Omar tweeted.
Senior Abdullah also came out in defence of actor Aamir Khan. "It's media hype. I was there and he never said he intends to leave India," he said. The 50-year-old actor had to face severe criticism from the BJP, Hindu groups and even a section of the film fraternity for his comments that rising communalism was a worry and his wife wondered if it was time to leave the country.
Personalise your news feed. Follow trending topics