Death penalty: 'Rarest of rare' cases are not so rare in India now
Hindustan Times |
, New Delhi
Satya Prakash
Feb 05, 2016 12:53 PM IST
The manner in which death penalty is being given in a large number of cases raises a serious question: are trial courts giving a go by to the 'rarest of rare' doctrine
A West Bengal court's verdict awarding death penalty to 11 convicts, including a Trinamool Congress leader, for the murder of a woman has raised questions over the doctrine of 'rarest of rare' propounded by the Supreme Court.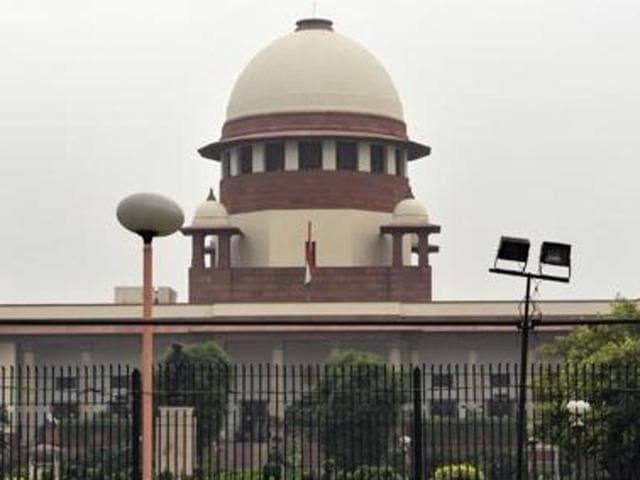 Aparna Bag, a resident of Ghughurgachi of Nadia district of West Bengal, was murdered by a group of people on November 13, 2014 over a land dispute. On Thursday, a court in Krishnanagar handed death sentence to the 11 accused.
Death penalty in India
In India, death penalty is prescribed for murder, gang robbery with murder, abetting the suicide of a child or insane person, waging war against the government and abetting mutiny by a member of the armed forces. Capital punishment is also awarded under some anti-terror laws for those convicted of terrorist activities.
Murder convicts get life imprisonment
Generally, courts award life imprisonment to convicts in a murder case. Only in "rarest of rare" cases, murder convicts are given death penalty.
Death sentence is imposed on the convict only when the court comes to the conclusion that life imprisonment is inadequate having regard to the facts and circumstances of the case.
Also Read | Bengal: 11 given death sentence for killing woman to grab land in Nadia
Section 354(3) of the Criminal Procedure Code (CrPC), which was added to the Code in 1973, requires a judge to give "special reasons" for awarding death sentences. Capital punishment can be inflicted only in gravest cases of extreme culpability and in choosing the sentence the condition of the convict is also to be taken into account.
What is "rarest of rare"?
In 1980, in the Bachan Singh case, the Supreme Court propounded the "rarest of rare" doctrine and since then, life sentence is the rule and the death sentence the exception.
There is no statutory definition of "rarest of rare". It depends upon facts and circumstances of a particular case, brutality of the crime, conduct of the offender, previous history of his involvement in crime, chances of reforming and integrating him into the society etc.
Test for "rarest of rare"
The generally applied test while sentencing a convict to death is whether the survival of an orderly society demands extinction of life of the person who has committed the offence and whether failure to impose death sentence on him would bring to naught the sentence of death provided under Section 302 of IPC.
Pre-planned, brutal, cold-blooded and sordid nature of a crime, without giving any chance to the victim, are generally taken into account to decide whether a particular case falls within the parameters of "rarest of rare".
What does Supreme Court say?
"Death penalty should be imposed when collective conscience of the society is so shocked that it will expect the holders of the judicial power centre to inflict death penalty irrespective of their personal opinion as regards desirability of otherwise of retaining death penalty," said the Supreme Court in Bachan Singh Vs. State of Punjab.
The crime has to be viewed from various angles – manner of commission of murder, motive for commission of murder, anti-social or socially abhorrent nature of crime and magnitude and personality of victim of murder.
Are trial courts following "rarest of rare" doctrine"?
But the manner in which death penalty is being given in a large number of cases raises a serious question. Are trial courts in India giving a go by to the 'rarest of rare' doctrine?
The question becomes all the more relevant because not all convicts awarded death penalty are executed in India.
The number of death sentences pronounced has been very high despite the "rarest of rare" doctrine that limits the scope of awarding capital punishment.
According to an Asian Centre for Human Rights (ACHR) report — The State of Death Penalty in India 2013 — Uttar Pradesh topped the list with 370 death sentences, followed by Bihar (132). But sentences for 4,321 convicts were commuted from death penalty to life imprisonment during this period. This, of course, included many convicts who were given death penalty before 2001.
The highest number of commutation — 2,462 — happened in Delhi, followed by Uttar Pradesh (458). But thousands of convicts still remain on the death row.
Huge gap between death sentence and actual execution
Data show there is a huge gap between death sentences pronounced and actual executions. According to an ACHR report based on National Crime Records Bureau (NCRB) data, there have been several death sentences between 2001 and 2011, but only a few of these have actually been carried out.
Indian courts awarded death penalty to 1,455 convicts from 2001-11, an average of around 132 convicts per year. But an overwhelming number of death sentences were commuted to life imprisonment during this period.
Also Read | Delhi: HC commutes serial killer's death penalty to life term
The only convict to be executed during this period was Dhananjoy Chatterjee (2004) who was hanged for the murder and rape of a 14-year old girl in Kolkata. This was the country's first execution since April 27, 1995, when Auto Shankar, a serial killer, was executed in Salem, Tamil Nadu.
Thereafter, there have been only three executions – Mumbai terror attack case convict Ajmal Kasab in 2012, Parliament attack case convict Afzal Guru in 2013 and Mumbai serial blasts case convict Yakub Memon in 2015.
Is SC becoming averse to death penalty?
The president and governors are exercising the power "to grant pardons, etc., and to suspend, remit or commute sentences in certain cases", given to them, under Articles 72 and 161, to save a fairly large number of convicts from the gallows.
While the executive have been refusing mercy pleas of only terror convicts, judiciary is not following the same.
Of late, the Supreme Court has refused to impose capital punishment in cases in which one would have expected it to send the convicts to the gallows. Many were surprised when the SC declined to award death sentence to the convicts in the Graham Staines, Jessica Lall and Priyadarshini Mattoo murder cases on the ground that these did not fall within the category of "rarest of rare".
It commuted the death penalty of Rajiv Gandhi's killers to life imprisonment in February 2014 on the ground of inordinate delay in deciding their mercy pleas. A month later, it also commuted the death sentence of 1993 Delhi terror convict Devender Pal Singh Bhullar to life imprisonment on the grounds of delay in deciding his mercy petition and that he suffered from a mental illness.
Punishment is natural response to crime
This principle is almost universally accepted and that letting off criminals can result in vigilante justice. Also, the punishment has to be proportionate to the degree of wrongdoing and mitigating circumstances have to be considered while deciding the quantum of punishment.
Should India abolish death penalty?
India has been voting against a UN resolution calling for a moratorium on the death penalty. But in effect, there has been a near moratorium on the death penalty in India.
According to Amnesty International, in India, at least 100 people in 2007, 40 in 2006, 77 in 2005, 23 in 2002, and 33 in 2001 were sentenced, but not executed, to death.
India's figure is minuscule compared to China which executed thousands, Iran (1,663), Saudi Arabia (423), the US (220) and Pakistan (171) during 2007-12.
ACHR director and coordinator of the National Campaign for Abolition of Death Penalty in India, Suhas Chakma, says: "The sanctity of the rarest of rare doctrine has been eroded considerably and awarding death penalty has become routine for courts in India.
"India should abolish death penalty altogether and join the comity of civilised nations that have done away with this extreme form of punishment," says Chakma.
Also Read | Kerala's Hummer billionaire gets life term for crushing security guard