This isn't a serial: Vemula's kin accuse Irani of lying in Parliament
Updated on Feb 26, 2016 08:53 PM IST
In her Lok Sabha speech on Wednesday, Irani had suggested that Vemula didn't want to blame anyone for his death and that the Opposition was using him to attack the government.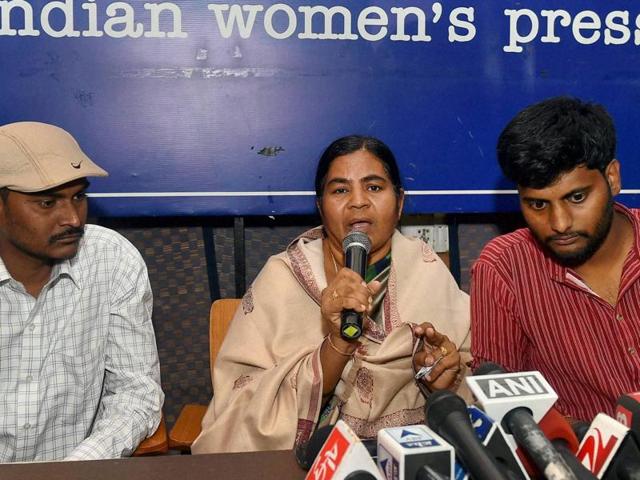 Hindustan Times |
, New Delhi
HT Correspondent
The family of Dalit scholar Rohith Vemula on Friday accused Union HRD minister Smriti Irani of resorting to "blatant lies" and said "life imprisonment" will not be enough for her and others "responsible" for his death.
"Smriti Irani, this is not a serial, this is real life. Bring out the facts, don't fabricate them," said Rohith's mother Radhika Vemula as she hit out at the minister at a press conference in New Delhi.
She also demanded that a special investigation team be set up to look into the suicide.
Refuting the human resources development minister's claim that a doctor was not allowed to examine Rohith's body for hours after he committed suicide, Rohith's brother Raja said, "I reached the room in which Rohith committed suicide at 8.30 pm. The police, a doctor and university authorities were already there. Why is she lying that no doctor was allowed near the body till the next morning?"
Speaking in Parliament, Irani had on Wednesday tried to deflect criticism and mounted a strident attack on the Opposition accusing it of "politicising" the PhD scholar's death.
She had said that the committee which acted against Rohith had a Dalit representative and that doctors were not allowed to revive him after he was found hanging.
Watch | Smriti Irani quotes police report, says there was no attempt to revive Rohith
Rohith's friends and family also said that Irani was lying about the composition of the committee that expelled the students.
"Irani said there was representation from the SC/ST community but this is not true. The decision was taken in the executive council which did not SC/ST representation. She also claims that any political interference was kept out but the Vice Chancellor Appa Rao Podile, who was appointed by the BJP government, was heading the committee. Irani should be punished for lying in the Parliament," said Prasanth Dontha, a friend of Rohith's and one of the four who was also evicted from the hostel.
Vemula, a Dalit Phd scholar, hanged himself in his hostel room in the university in January, days after he was banned from the hostel for allegedly attacking an activist of the BJP-linked ABVP.
Read |Irani slams Cong over Vemula suicide, JNU row; Modi tweets her speech
Read | For the 2nd day, Irani keeps up attack on Oppn over Vemula, JNU issues
Close Story
Personalise your news feed. Follow trending topics