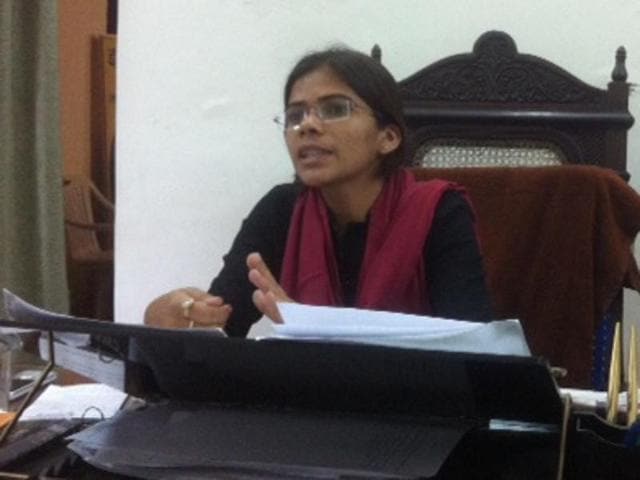 Winds of change: The rise of UP's women students
Like JNU, campuses in Uttar Pradesh too have become battlegrounds of ideologically opposite voices
Hindustan Times | By
Prashant Jha
, Allahabad/lucknow/varanasi
UPDATED ON MAR 16, 2016 10:37 AM IST
Richa Singh, sitting in the Allahabad University Students' Union office, is rattled, but determined.
Three years after she began her doctoral course in globalisation and development studies, the university is investigating the validity of her admission.
The complaint -- she was admitted in defiance of reservation norms as only two general caste candidates were taken in. Her department's defence is that when there are less than four seats, these norms need not apply under legal opinion sought at the time. The university set up a committee that indicated there was a procedural flaw, and has now set up an even bigger committee to investigate the case further.
But no one in Allahabad's political circles believes this is an innocuous, regular bureaucratic process, for Singh is the president of the students' union.
This is not the first time that the first elected woman president of the university in its 128-year history -- and the face of anti-ABVP politics in Allahabad -- is facing a challenge on.
Richa Singh's story is an illustration of the rise of independent women voices in UP's universities, how they are navigating gender and caste in the current context, and also the limitations of operating without a party umbrella.
The rise of critical voices
Singh won the AUSU election as an independent candidate, albeit with the support of the Samajwadi Party's student wing as its candidate was disqualified at the last minute.
In the solely caste and muscle-dominated politics of east UP, her campaign came as a whiff of fresh air.
"I raised issues of students who are not affiliated to parties and interested in academic work, of women who face a range of issues here, and Dalits whose voice is barely audible in the Brahman-Thakur-OBC dominant politics of universities." Till then, politics revolved around a group that was primarily anti-reservation and catered to students aspiring for civil services; SP's Samajwadi Chatra Sabha which relied on OBCs; and ABVP with its base of predominantly upper castes.
Singh represents a new constituency -- of women students in UP, who are acutely conscious of gender politics, who are not ideology-bound but have strong beliefs. This is particularly striking in a political context where dominant opinion is conformist. Take the issue around Kanhaiya Kumar in JNU.
Outside the Hindi department in Lucknow University, Sarita and Sukrit were reading a book. We asked them about their views on JNU. "The government should try to understand why is someone saying something instead of locking them and beating them. In the case of Kanhaiya, there was no enquiry. Government should have thought more."
But what about the "anti national slogans?"
"If anyone is mouthing slogans, it is ok. Even in US, it is allowed. Gandhi also said what is freedom if you are not free to make mistakes." The students said they had held a discussion on the issue and posted their views on the notice board in the department. They had been, they proudly said, influenced by their teacher, Ravikant, in the department.
It is early evening, and deep inside Banaras Hindu University campus, students are chatting in small groups over chai and samosa. Bells ring in a nearby temple.
We meet a group of five women students -- three from Bihar, one from UP and one from Jharkhand - in the final semester of their mass communication and journalism course.
They all feel that the government is intervening excessively in universities and cite as proof the appointment of a 'pro-BJP man' as the vice chancellor at BHU. They also label him 'anti-women' for seeking to regulate the movement of women students and impose curfews rather than provide security and freedom.
The students said there were many anti-JNU marches in the campus, and express their disagreement with it. But they are also skeptical of Kanhaiya's performance and "opportunism" in using the media after his release.
A student, Priyanka Singh, said a lot of the confusion and controversy is because of the media. "The media has been an utter failure this time. It has tampered with videos; it has judged and not given us facts; it has relied on rumours." Do they still want to work in the media after finishing their course? A debate breaks out with two students saying they would like to join and make a change from within, while one says that there is no hope for reform.
Richa's travails
It is precisely this assertion of women and of critical voices which is causing a disruption in established set-ups. Richa Singh and her travails symbolise that.
Her battles within the university began soon after taking over. Four other elected members of the union are from the ABVP. They unilaterally invited Mahant Adityanath, the rabid Gorakhpur MP, to inaugurate the union. Singh objected and said she would not allow it.
But should she not have given him space in the spirit of allowing different voices? "This was not about free speech. He wasn't going to be here to give a lecture but inaugurate the student union, which is of thousands of students. At least, such a person should not be communal and anti-women. And the president has always had a say in determining who inaugurates." The ABVP threatened her. Singh claims they told her, in the presence of the VC, "We will throw you out of the city. What will you do?"
Adityanath could not come. The local administration backed Singh in the process, giving an early glimpse of how perhaps SP's state government saw an ally in the AUSU president.
In turn, ABVP decided it would not allow Richa Singh to organise a talk -- for which the university had given approval, with the VC himself agreeing to chair it -- by senior journalist Siddharth Varadarajan. The university backtracked; the event was held outside the campus premises; and when Varadarajan went to pay a visit to the VC, he was surrounded by ABVP cadres and faced belligerence and aggression.
When asked about the university's stance, and backtracking at the cost of limiting freedom, its spokesperson, K N Uttam said, "Our priority is the safety and security of our students, our faculty, the campus property, and residents around the university. If there is a possible threat to law and order, we cannot take a risk."
For Singh though, the incident was further proof of how the university administration is pliable to ABVP pressure. She has, by now, received five notices -- including one for defamation because she highlighted how key university officials are facing charges of sexual harassment and Dalit atrocities.
Singh sees all this as a deliberate attack because as a woman she has dared enter what was an exclusive male bastion. " They are harassing me mentally. They don't like the fact that a woman is asking so many questions in the university, is expressing solidarity with other movements. When women students protest, there is abuse and sexual taunts." The idea, as she sees it, is to discourage other women from entering this space at all.
In the process, Singh has spoken out on justice for Rohith Vemula and joined the march to Parliament. She has also come to be seen as close to the SP government -- an impression buttressed because the state government recently honoured her.
When asked about the association, she says, "There are governments which are calling us anti-national and there are governments which are supporting us." And what about the fact that SP is deeply illiberal when it comes to gender? She smiled and says, "We have to change all parties." She points out that MPs from across party lines, and even Mayawati recently came out in support. "Right now, it is an anti-ABVP alliance."
Singh feels the big game-changer in student movements is social media and the fact it has enabled people to come together, exchange information and notes. "From IIT to FTII to Hyderabad to JNU to Allahabad, people can connect. The other change is that students are now more vocal. BJP should remember youth stands with you quickly, but can leave you quickly too."
Whether they stay or leave, what is clear is that UP's women students are watching government actions closely. The young female voter cannot be taken for granted anymore.
(Views expressed are personal)
Close