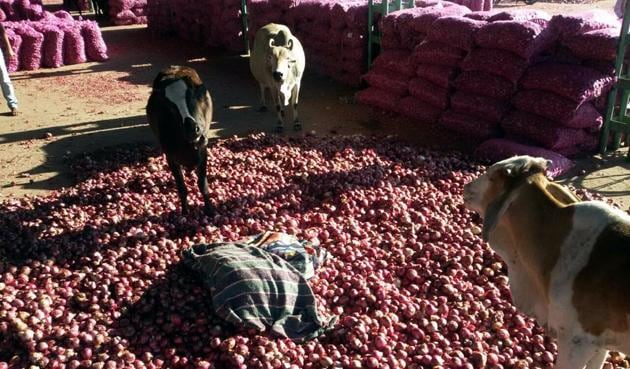 In cashless times, farmers sell onions at
₹

1 per kilo in Neemuch

Onion prices crashed at the Neemuch Anaj Mandi on Thursday forcing some farmers to sell their produce at Rs 1 per kg. So distressed were the farmers by the crash in onion prices that some of them threw their produce in front of stray cattle in the market.

UPDATED ON DEC 23, 2016 03:15 PM IST
Onion prices crashed at the Neemuch Anaj Mandi on Thursday forcing some farmers to sell their produce at Rs 1 per kg. So distressed were the farmers by the crash in onion prices that some of them threw their produce in front of stray cattle in the market.
Arvind Patidar, a farmer from Amlibhat who sold his crop at ₹1 per kg, said, "I had thought I will earn at least ₹4,000 at ₹10 per kg for my four quintal of onions. Instead, I got only ₹400." He said he had spent around ₹4,000 on his onion crop and paid another ₹200 as transport charges.
Ramnarayan, a farmer from Javad tehsil who has a standing crop of onion, said he was having a second thought to take the onions to the mandi, as mere transportation of his produce would cost ₹1,200.
Onion trader Satyanarayan Lathi said that the demand for onion has come down. "But even today (Thursday) the best quality of onion is being sold at ₹6 per kg."
Collector Rajneesh Shrivastava said that there has been a bumper crop of onion, but was surprised that onion was being sold at ₹1 per kg. "We will have to check the quality of the onion and the circumstances in which it was sold," he said.
Meanwhile, in neighbouring Mandsaur district when the onion prices opened in the morning it were between 50 paise and ₹1.5 per kg. The farmers became so angry that they closed the onion sale for two hours, but later they resumed it after police intervention.
Last week, the onion prices hovered around ₹10 per kg.
Close