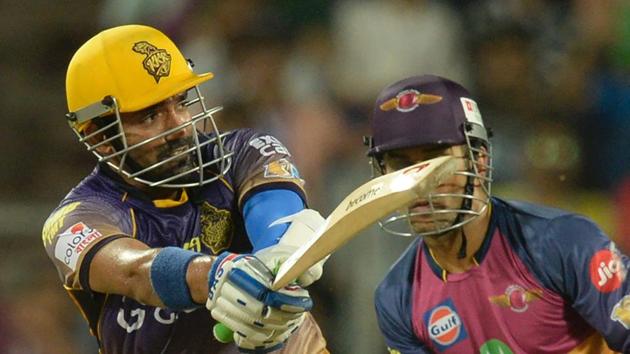 Credit goes to Kolkata Knight Riders batsmen, says Rising Pune Supergiant's Rahane
Robin Uthappa and Gautam Gambhir hit half centuries as Kolkata Knight Riders (KKR) defeated Rising Pune Supergiant (RPS) by seven wickets in their 2017 Indian Premier League (IPL) match on Wednesday.
UPDATED ON APR 27, 2017 02:40 PM IST
Rising Pune Supergiant (RPS) began their 2017 Indian Premier League (IPL) home stretch of three matches with a seven-wicket loss against Kolkata Knight Riders (KKR) at the MCA Stadium in Pune on Wednesday. (Highlights)
Kolkata Knight Riders skipper Gautam Gambhir (62) and Robin Uthappa (87) forged a 158-run second wicket partnership to chase down Rising Pune Supergiant's total of 182 for five with 11 balls to spare. (Scorecard)
While RPS skipper Steve Smith blamed the dew factor for being unable to defend the target, his teammate Ajinkya Rahane justified that the team was not trying to give any excuse for the seven-wicket defeat.
When asked if the dew troubled the RPS spinners, Rahane said: "Absolutely," before continuing, "Many times people think it is an excuse, but from a bowler's point of view, it is slightly difficult to bowl when dew factor comes in play.
"It was difficult to grip the ball as the ball got completely wet," added Rahane. "So, I feel chasing 180 would have been different if there was no dew tonight as it was easier to grip the ball in the first innings than the second innings. Again it all depends on the way the chasing team plays. Robin displayed great intent that was later capitalized by Gautam Gambhir. Other than the dropped catches, we didn't make too many mistakes."
The dew made the wicket easier to bat on as no Rising Pune Supergiant bowler looked to trouble Gambhir and Uthappa. It also made catching the wet ball difficult.
RPS dropped crucial catches of Uthappa, when he was on 12, and Gambhir which was a bit difficult chance for Washington Sundar when the KKR skipper top-edged at short fine-leg. Rahane does not think Rising Pune Supergiant lost the match because of dropped catches.
"I don't think (we lost the match because of the dropped catches). Credit goes to their batsmen, they played really well," said Rahane. "It happens on the field and no one drops catches intentionally. It is part and parcel of the game. They batted well, especially Robin after the dropped catch batted really well. He literally dominated our bowlers. After batting for 20 overs, we thought 180 was a good total on this wicket, but because of the dew, it was slightly difficult for the bowlers."
Close