IPL 2017: Rising Pune Supergiants skipper Steve Smith won't take MS Dhoni tips
Steve Smith will lead a team full of senior players and captains, but the man who replaced MS Dhoni as Rising Pune Supergiants skipper said he would prefer to do things his own way in Indian Premier League 2017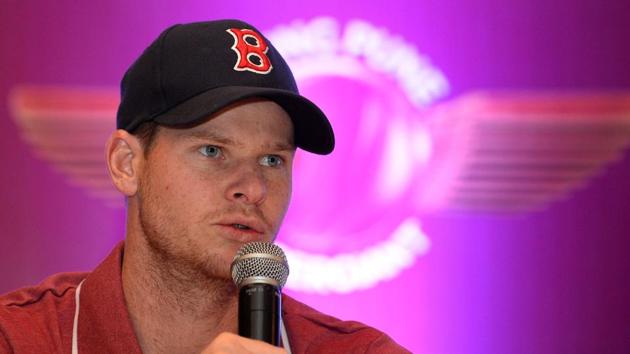 Updated on Mar 31, 2017 02:13 PM IST
Hindustan Times, New Delhi |
N. Ananthanarayanan
Australia skipper Steve Smith may have just ended a draining Test series against India, finishing on the losing side, but he won't brook any unsolicited advice as he begins his leadership role with Indian Premier League side Rising Pune Supergiants.
Steve Smith was a slightly controversial appointment to lead the new fracnchise in place of MS Dhoni, the former India skipper who has only played as captain in the previous nine IPL editions.
The RPS team owner, Sanjiv Goenka, said on Thursday at a team news conference that the change was 'amicable', having earlier explained that the change was made in the best interests of a team that had finished seventh out of eight teams on its debut last year.
NUMBER OF LEADERS
Asked about the switch to IPL and playing with three other captains, Steve Smith first said he looked forward to interacting with the different leaders. "Centrally, it will make my job easier," he said.
"The IPL will be beneficial to me. There are a lot of international players and I will get to share the dressing room with them. I will know what people from different parts of the world are thinking," Smith said.
However, when pressed about whether he would welcome constant inputs from the seniors -- Ajinkya Rahane and England all-rounder Ben Stokes were also in the podium -- he was categorical.
"There are plenty of guys to talk to, but it is important not to have too many opinions. If opinions are coming from left, right and centre, it can cloud your judgement," Smith said.
"I'll try to stay as clear as possible, but it can be difficult sometimes if there are too many opinions."
TOUGH TEST SERIES
Steve Smith also shares captaincy duties in Sydney Sixers in the Big Bash League, but will lead a side with Dhoni, South Africa's Test and T20 skipper, Faf du Plessis as well as Rahane, who led the team in the injured Virat Kohli's absence in the final Test in Dharamsala.
Smith was a prolific scorer in the Test series, aggregating 499 runs with three centuries. His leadership was largely praised, especially in the way he motivated a young side after solid preparation ahead of the series.
However, he was involved in a couple of controversial incidents. He admitted 'brain fade' after being found seeking dressing room help to decide on a DRS review in the Bangalore Test and then apologised for losing his cool -- a video showed him abusing Murali Vijay for claiming a catch in Dharamsala that was turned down on a TV review-- at the end of the match.
MS Dhoni had played in the IPL only as captain for nine years before he was replaced by Rising Pune Supergiants owner, Sanjiv Goenka. Smith will have plenty of captaincy challenges as India's match-winning bowler, Ravichandran Ashwin, is also part of the team.
Australia's elaborately laid plans for India seemed to click initially when they won the first Test in Pune but Virat Kohli's men roared back to clinch the series 2-1.
There was plenty of acrimony with Steve Smith one of the prime characters as words were exchanged on and off the field. However, barely 48 hours after the final Test, there was an attempt to calm things down.
If Smith took the initiative to play down talk of animosity between India and Australia players, Rahane two showed the equations had changed within 48 hours of the series ending, whispering to Ben Stokes not to reveal any bowling plans after he was asked about his tactics on batting pitches.
Close Story