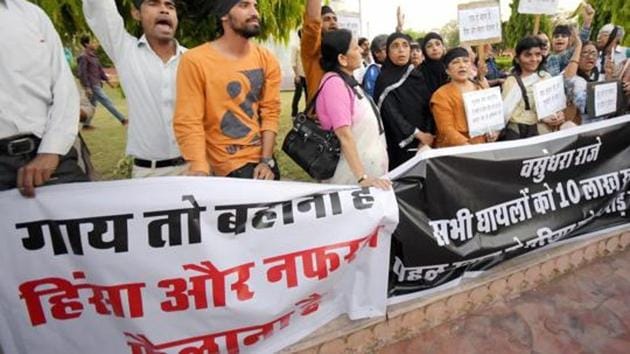 Alwar lynching: Activists says cow vigilantism rising with BJP ascent
Mewat, comprising Alwar and Bharatpur districts, has emerged as the epicentre of cow-related crimes and activists say such crimes have risen in tandem with the ascent of the BJP government at the Centre and in the state
UPDATED ON JUL 21, 2018 10:07 PM IST
The latest incident of the alleged lynching of a Muslim man in Rajasthan's Alwar has once again put the spotlight on the district that falls in the Mewat region.
Mewat, comprising Alwar and Bharatpur districts, has emerged as the epicentre of cow-related crimes and activists say such crimes have risen in tandem with the ascent of the BJP government at the Centre and in the state.
While cow smuggling is not new in the Mewat, activism by cow protection groups and cow vigilantes is.
Activists blame right wing groups such as the Gau Raksha Dal, Rashtriya Mahila Gau Raksha Dal and Bajrang Dal for the violence. They say that self-styled gau rakshaks are mere thugs who are extorting money.
Rajasthan is the only state that has a cow welfare department. Cow slaughter is punishable by up to 10 years in jail
In the BJP government, efforts have been ramped up to protect its 13 million bovine animals and end smuggling by setting up 39 police outposts across the state, six each in Alwar and Bharatpur.
Cow vigilantes are known to patrol the roads in Alwar and neighbouring districts at night and waylay bovine transporters, mostly smugglers from Muslim-dominated Meo region who take cattle into neighbouring Haryana. These mobs also reportedly extort money from cattle transporters.
People's Union for Civil Liberties (PUCL) Rajasthan president Kavita Srivastava said it is well known that extortionists are indulging in violence under the garb of gau rakshaks.
"If those carrying cows are able to pay the sum, then they are allowed to go or else fired at and killed," she said.
She said the BJP government has failed to protect Muslims from the killer gau rakshaks who have support of the police and administration.
Noor Mohammed, an Alwar-based social activist, says the self-styled cow protectors only want money. "They care for money, not cows. If you pay them, they will let you go else they will report you to the police for cow smuggling."
He says such vigilantes were active during the Congress government too but at the time they did not have police protection. "Now they have no fear of the law and take the law into their own hands."
Jamshed Khan, sarpach of Puleda says the killings are happening at the behest of the government as elections are approaching. "The gau rakshaks are touts of the government. They want to fan communal tensions."
Mohammed says the larger issue is the socio-economic condition of the Muslims.
A study on Meo Muslims of Mewat by the Save the Children in 2011 pointed out that they are the most marginalised in the state.
"No government has made efforts for economic development in the region. The Mewat Vikas Board has spent money on infrastructure but not on education of providing skills to the people which is sorely needed there."
Close