GRAM Kota fails to deliver, only two industries established
So far only two agro-food industries, both pertaining to manufacturing of soybean oil, have been started in Kota.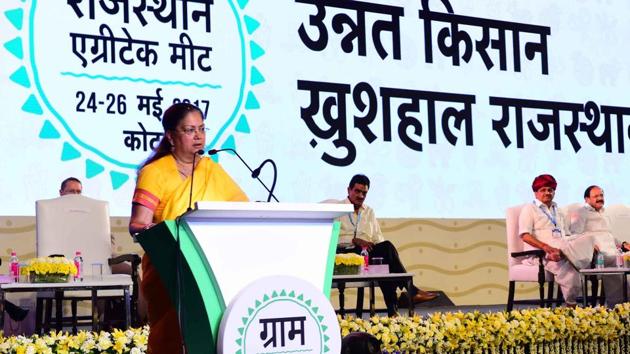 Published on Jul 15, 2018 10:39 PM IST
Hindustan Times, Kota |
Aabshar H Quazi
A year after Rajasthan government signed a dozen deals worth ₹631.78 crore for setting up agro industries, work has started on only two units.
The government had signed 21 memorandums of understanding (MoUs) worth ₹955.37 crore with entrepreneurs during the second edition of Global Rajasthan Agrotech Meet (GRAM) in Kota in May 2017. Of these 21, a dozen were for agro industries, including agro food processing units, mandi yards, value addition units, cold chain units, contract farming agreements and a dairy farm in Kota division.
Once materialized, the deals were supposed to generate direct and indirect employment for around 27000 people.
So far only two agro-food industries, both pertaining to manufacturing of soybean oil, have been started in Kota.
While Goyal Veg oils has extended its existing soybean oil plant by establishing one more processing unit in Kasar area of Kota City, which was inaugurated by chief minister Vasundhara Raje in February this year, Shiv Health Food Agro Food Park has been established in Ranpur but is yet to start production.
The remaining 10 agro food industries have remained confined to papers only.
Those who had promised to set up units include Rajasthali Krishi Upaj and Herbal Mandi in Kota-Bundi ( ₹100 crore), Shah Calcium Oils Limited ( ₹40 crore), Friends Agro industries at Chhapras, Bundi ( ₹23.37 crore), Shri Dhanya Corporation at Ramganjmandi in Kota ( ₹15 crore), Indian Wearhousing Corporation Limited at Talera in Bundi ( ₹100 crores), and Bundi Basmati Rice Cluster Private Limited ( ₹100 crore). The others are Manish Sharma Industries at Ramganjmandi in Kota ( ₹32 crore), Shah Agrochem in Baran ( ₹35.41 crore), Viking Harvest Farm in Kota ( ₹25 crore) and Pigeons Food Processing and Winery in Jhalawar ( ₹10 crore).
Contacted, Vishal Garg of Indian Wearhousing Corporation confirmed that he had also signed an MoU with Rajasthan government during GRAM Kota 2017 for establishment of Private Mandi and Yard. "But the government authorities are yet to allot land for establishment of the private mandi and yard. I have written to the district administration and Urban Improvement Trust of Kota urging the government to allot 12 acres of land, but to no avail," he said.
However, another entrepreneur, Vishal Sharma of Viking Harvest Farm, when asked why he hasn't yet established the garlic-based industrial unit for which he had inked deal, said that the recession due to the demonetisation followed by GST created obstacles in establishment of the agro industries in Kota. "It was a delay on our part due to economic recession but we are determined to start agro industries within next two to six months," said Sharma.
District Industry Officer YN Mathur said that two agro food industries have already been established but other "entrepreneurs are slow in establishing industries due to issue of lack of land availability and disinterest."
Agriculture minister Prabhulal Saini said that government was pursuing the investors for setting up of agro-based industries in state but many a times "lack of land and their own financial problems create hindrances". He said that state government was committed to set up agro industries for which every possible assistance is being offered to the entrepreneurs.
Close Story
Personalise your news feed. Follow trending topics