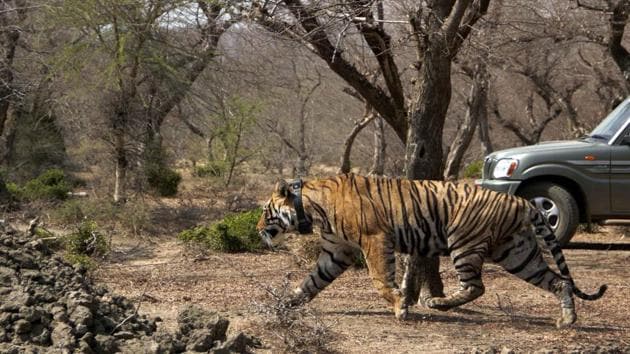 Wildlife organisations write to NTCA for more tigers at Mukundra reserve
They say that complexities will rise if there is a delay in the relocation of more tigers.
Hindustan Times, Kota | By Aabshar H Quazi
, Kota
UPDATED ON MAY 03, 2018 10:01 PM IST
Amidst a standoff between the state wildlife department and National Tiger Conservation Authority (NTCA) over the relocation of tigers to Mukundra Hills Tiger Reserve (MHTR), Kota-based wildlife organisations have written to the NTCA for allowing relocation of more tigers to MHTR.
Green Core and Hum Log Society have written to the NTCA and said that the tiger MT-1, relocated in April, needs pairing to increase the big cat family in MHTR.
"Complexities will rise if there is a delay in the relocation of more tigers to MHTR. It's not ideal to relocate tigers during the monsoon season as it will pose difficulties for the animals to adapt to the new habitat," Dr Sudhir Gupta, secretary of Green Core and founder of Hum Log Society said.
Green Core and Hum Log in their letter to the additional director general of NTCA, Dr Anoop Kumar Nayak, have demanded the relocation of at least four tigers and tigresses to MHTR.
"MT-1 has responded to honey trap used in the recent past, which means that more tigers need to be relocated so that they can mate," said Gupta.
Hadauti Naturalist Society (HNS) will also write to NTCA soon said HNS secretary RS Tomar.
"Relocation is getting delayed due to a miscommunication between NTCA and state wildlife department. This is affecting the bigger cause of tiger conservation," said Tomar.
Hadoti Tourism Development Society has also written to the NTCA for expediting the process of tiger relocation.
The NTCA had objected to the relocation of MT-1 from Ranthambhore Tiger Reserve in Sawai Madhopur. The tiger was caught on April 3 this year from Ramgarh Vishdhari Sanctuary in Bundi district where it has been for last four months.
Close