Kolkata: 3-day-old babies trafficked, packed in biscuit cartons
Updated on Nov 23, 2016 01:32 PM IST
The operators sold newborns to childless couples for more than two years till the CID busted the racket.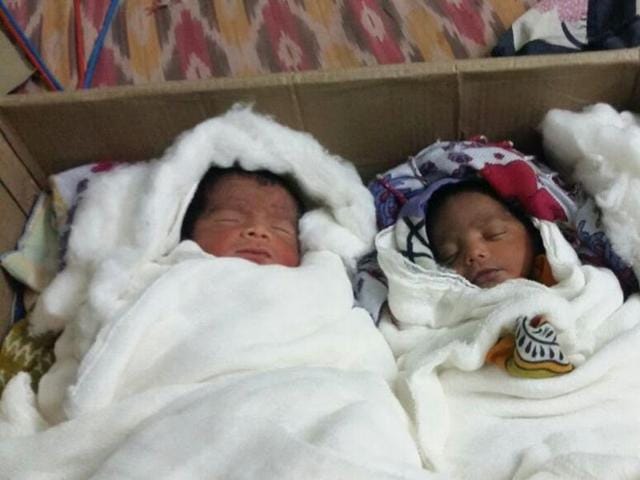 Bengal woke up to a new trafficking horror on Tuesday, this time involving newborns. A racket that operated from a private nursing home at Baduria in North 24-Parganas stretched all the way to different parts of the country and beyond to the US and the UK. The operators sold newborns to childless couples for more than two years till the state police's criminal investigation department (CID) busted the syndicate on Monday.
Not unexpectedly, newborn girls were sold for less — between Rs 80,000 and Rs 1 lakh if their complexion was dark, and between Rs 1 lakh to Rs 1.5 lakh if they were fair. The boys got sold for not less than Rs 2 lakh.
When the police raided the Sohan Nursing Home and Polyclinic, two three-day-olds — a boy and a girl — were found inside a biscuit carton. A third one, nearly six days old, was found in a room. CID officers said they suspect that the newborns were put in such cartons and smuggled out in ambulances to evade suspicion. "They sold at least 30 newborns though the number may be much higher. Investigation is on," said a CID officer.
Read:Jalandhar child-trafficking racket: Doctor among three women caught
Hunt is on for a doctor named TK Biswas who worked at the nursing home. An NGO too was involved, the police said, adding that a retired doctor of state-run RG Kar Medical College and Hospital in Kolkata was also hand-part of the racket.
Eight people, including two women, were arrested till Tuesday night. All of them are residents of the North 24-Parganas district. They were produced in court during the day. While Satyajit Sinha and Utpala Byapari, who ran the NGO, and Bagbul Baidya and his wife Nazma Biwi, who owned the polyclinic, were sent to police custody, Ashaduzzaman, the nursing home owner, was sent to judicial custody.
Talking about the modus operandi, CID officers said that while the children were smuggled out, their parents were told that they had stillborns. Most couples were too poor to challenge the nursing home authorities and those who did were silenced with monetary compensation. "The nursing home worked in collusion with a local NGO Subodh Sarkar Smiriti Memorial. Three doctors, including a retired doctor of RG Kar Medical College, were involved," said DIG (CID) Bharatlal Mina.
Read:'Juvenile trafficker': How human traffickers are training hundreds of minors in the job
"They used to target the poorest of the poor. In most cases, the couples would not show any interest to see the bodies. Even when women came for abortion, they were encouraged to deliver the child against a payment," an officer said, adding, "While Sinha used to bargain with prospective buyers, two clerks Pravat Sarkar and Jhantu Biswas prepared the legal papers."
Close Story
Personalise your news feed. Follow trending topics