Best interior designing tips for your drawing room
Jun 28, 2022 05:22 PM IST
Whatever your design style, the drawing room is a place to entertain and receive formal guests. Get the right and best interior designing tips for your drawing room from home decor experts
Drawing room is the area which is your first introduction to guests and interior designing of the drawing room is essential for the proper utilisation of floor area and camouflaging architectural defects with furniture. Drawing rooms are an essential part of any sprawling bungalow but there is a difference in living room and drawing room where the former is used for relaxing and chilling with family while the latter is used formally for entertaining guests.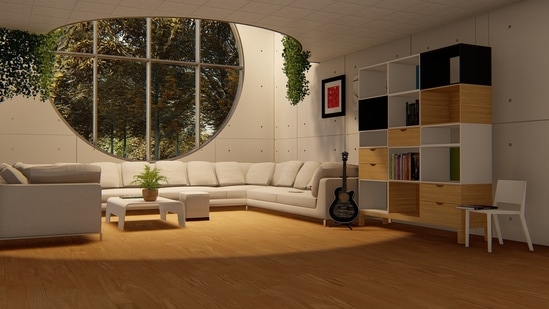 Majorly all homes have a living room but not all have a drawing room. Drawing room is the room which showcases your persona and one displays the best of assets they have be it art artifacts carpets etc. hence, whatever your design style, the drawing room is a place to entertain and receive formal guests.
In an interview with HT Lifestyle, Sapna Aggarwal, Creative Director at Ansa Interiors, suggested, "First and foremost, it is essential to check the dimension of your room. Now choose the furniture you want to fit and make a pencil sketch/ layout to scale. Focus on the architecture because if the basic layout is not right, there is no way to get the right design. Focus on dead corners to see how they can be utilized. Ventilation and air- conditioning must be primarily positioned."
Choose your furniture as this consumes the bulk of your floor area. Sapna Aggarwal said, "Every object has height, depth and width so innovative combinations will add visual interest to the space. Create a focal point which can either be a wall decor, a console with a mirror, a fireplace or a painting. Different types of furniture in the form of sofas, recliners and flexible seating chairs for better look and feel of your drawing room. Flooring for the drawing room could be Italian marble or wooden flooring. Once the flooring has been done and furniture has been decided, choose a colour to paint your walls. A natural colour palette or white is the safest choice. Depending on the decor style, you can add wallpaper, wall art or an accent wall. If you like to experiment, you can add a punch of bright colours or bold patterns by graphic printing or stenciling. The ceiling as a thumb rule should be white."
Asserting that lighting can enhance the beauty or just break the whole design, Sapna Aggarwal added, "Lighting has a capacity of transforming the feeling about your place. It can make a place look safe and comfortable or either dramatic. The fundamental is to combine general, task and accent lighting according to function and style. Accessories are the soul of any drawing room. A layered rug, timeless curtains, an impact mirror, a statement art piece, luxurious throws and your holiday collectibles are all invited in the drawing room. The Lighting can enhance the beauty or just break the whole design. Lighting has a capacity of transforming the feeling about your place. It can make a place look safe and comfortable or either dramatic. The fundamental is to combine general, task and accent lighting according to function and style."
According to Charu Gupta, Director of L' Institute De Dessins (LIDD), planning and organising your drawing room is the key. She stressed, "Style is always important but invest in that lasts a lifetime. It will take less time and cost less overall if you explore all your options and buy the best you can afford. Some appear to be edgy and modern, while others appear to be coordinated and traditional. Think about what kinds of things you typically keep in your space, and then add storage that specifically accommodates those items. Usually while entertaining you don't design space for a TV but for sure for music with good surround and acoustics depending on size of the room. A bar space is must and a shelf which displays the best of the bottles one possesses."
Before you start your drawing room renovation, consider your overall storage needs. Think about what you need your room to do for you and how you want to feel when you're there. Once you've planned that out, it's time to start thinking about decorating. Stick with neutral sofas, armchairs, ottomans, bar, fireplace etc. Charu Gupta advised, "Do go bold with accessories — that way, you can easily swap out the small things when a new colour scheme is in order. There should have plenty of character and personality, so be sure to adorn walls with painting, photos, sculptures and colorful accessories to brighten up the space. Colour can be added with picture frames, rugs, throw pillows, and curtains, while mirrors, table lamps, and ceiling lights can help light flow throughout the space. Hang colourful artwork on the walls, and even add an accent wall by choosing a trendy new paint colour, finish, texture, wallpaper, fret…. Ample choices to choose from."
Make sure there are enough comfortable seats for everyone in the drawing plus a few unexpected guests. If you don't have a lot of space, try a sectional or keep nest of stools so you can always welcome everyone in. Charu Gupta recommended, "Keep the accessories light and easy to move so you can quickly clear space for a larger gathering. Soft carpet or a soft area rug are a must have for a drawing room. There's nothing like gathering around the glow of a fire on a cool spring evening. Choose from traditional wood burning fireplace or you opt for an electric or gas burning model. Pick a colour that makes the entire drawing feel at ease. Think about how you want to feel in the space. Neutral colours always look regal for a formal space. Pop of colours can be added with accessories, art, carpets, designed and coloured tiles trendy nowadays. Accent furniture : one or two small side tables are essential for lamps, drinks, and reading material. They serve the same purpose as a coffee table but take up less space."
Talking about artifacts that make your drawing room warm, welcoming and personal, Charu Gupta said, "These are objects from your life that have special meaning to you, like a treasure you brought home from a special trip, a drawing heirloom, or a special item gifted from a loved one. Display these objects around the room in a way that showcases their importance. Choose high shelves to display any breakable or expensive ones. In carpets, Kashmiri, Persian carpets, Afghani kilims are a good choice. In curtains, opulent curtains with elaborate tie backs or pelmets enhance the room giving a rich look. In cushions, opt for a few vibrant accent ones to add colour and pattern which will contribute to the overall style of the room. For extra seating, stylish and affordable seating is certainly doable while in fabrics, Jaccard or intricate fabrics are good, pure leather accessorised with brass looks very classy is another good choice as it wipes clean with a paper towel and looks and feels even better when it's well loved. When not in use cover with slipcovers or zip-off cushion covers."
Talking about floors, Charu Gupta shared that solid wood or marble adds value to the room while patterned and colour tiles also look chique. She said, "Lamps are essential because they serve as focal points of visual interest in a room while also providing adequate lighting. Soft, warm lighting makes everyone feel good. In walls, beige or a neutral colour is recommended. One wall can have drawing portraits and photographs. You can have a mantel to show the awards and certificates or mementos."
Carefully select furniture, set up rooms to avoid mishaps, stash wipes and stain removers in key spots around the house. A room that looks beautiful but doesn't take into account the demands of everyday drawing life will quickly be destroyed hence, incorporate a decorating style that will stand up to consider who you live with and decorate accordingly.