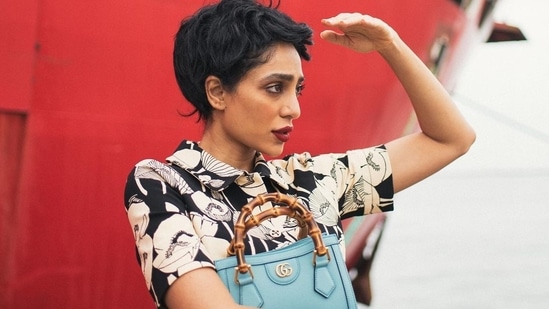 Sobhita Dhulipala debuts pixie cut, red lips in
₹

4.25 lakh Gucci dress, bag
Sobhita Dhulipala took to her Instagram and shared images of herself in an all new look as she posed for the cameras in a cute, short, Emma Watson-like pixie cut with a deep red lip and all-Gucci outfit. Check it out...
UPDATED ON JUL 17, 2021 07:34 PM IST
Sobhita Dhulipala is one stylish lass, and while she may have been away from our screens for a while now, she still manages to stay on the radar with her high fashion shoots and glimpses of her everyday life.
Most recently the Ghost Stories actor took to her Instagram feed to share images of herself in an all new look, the stunning beauty who is usually spotted with dark long hair posed for the cameras in a cute short Emma Watson like pixie cut, very unlike her usual look with either long flowing hair or tied up in a bun neatly at the back. For her look, Sobhita opted for minimal make-up save for her deep red lip, which went perfectly with the aesthetic of her surroundings as well as her outfit, and her bright blue bag stood out in the otherwise black, white and red elements.
ALSO SEE | Photos: Sobhita Dhulipala poses for Gucci in pixie cut, red lip
In the images clicked by the sea near ships against a vibrant red background, Sobhita posed as she looked in the distance wearing all Gucci from head to toe. Sobhita wore the Poppy flowers print jersey dress which has botanical prints and patterns as a nod to Gucci's fascination with nature. The silk dress features a contrasting ivory poppy flowers print set against a black background and an adjustable belt with a gold buckle that has the intertwined 'GG' logo on the front. The dress is priced on the Gucci website at $ 2,980 which is approximately ₹2.22 lakh. With this Sobhita paired a light blue leather Gucci Diana mini tote bag, which according to the website has the signature bamboo handles and Double G hardware, accentuated by two neon bands. The bag is priced on the website for $2,650 which is approximately ₹2 lakh.
+
The website states that the bag is also, "Reflective of its era, a bamboo handle tote was first presented by the House in 1991. Speaking to the narrative of evolution and reinvention that runs through Gucci's designs, the bag is reimagined by Alessandro Michele in three different sizes with removable, neon leather belts —a nod to the functional bands that once came with the original bag to maintain the shape of the handles."
Close