Here's how to wish your friends a 'Happy Friendship Day' in 10 Indian languages
Updated on Aug 01, 2021 09:22 AM IST
Best friends need no specific words and phrases to convey their love but if you have friends scattered in different states of India, here's your guide to wish them a 'Happy Friendship Day' this year in their native language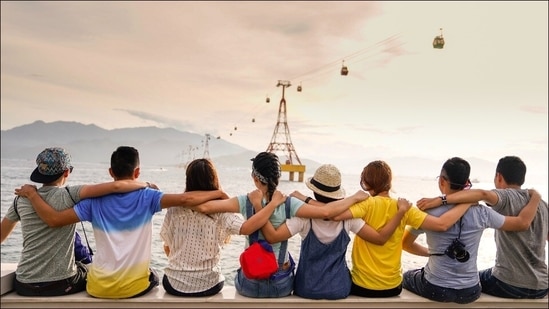 From being strangers in an academic institute or workplace to now being inseparable, we all nurture bonds of intimate friendship with some people who we can talk to for endless hours, without hesitancy and with the assurance that they got our back and vice versa. We are not connected by blood yet the bond is such that it does not even needs words sometimes and works in telepathy or understands each other merely through actions.
To mark this beautiful and valuable relationship, Friendship Day is celebrated in India on the first Sunday of August all across the world. It was first proposed by the World Friendship Crusade on July 30, 1958 but it was only on April 27, 2011 that United Nations' General Assembly declared July 30 as official International Friendship Day.
The day is celebrated by friends exchanging greeting cards and gifts, spending quality time with their best friends, some even make friendship bands and tie it on their friends' wrists on this day as an act of affirmation and simply put in extra efforts to make their friends feel special or take extra care of their friends in their love languages. With Friendship Day 2021 just around the corner, here's how you can wish your friends a "Happy Friendship Day" in different Indian languages.
Best friends need no specific words and phrases to convey their love but if you have friends scattered in different parts or states of India, here's your guide to wish them a "Happy Friendship Day" this year in their native language:
1. Hindi – Aap ke liye Mitrata Divas Mangalmay ho!
2. Urdu - Dosti ka din mubarak ho!
3. Punjabi - Mitarata divasa mubaraka!
4. Gujarati - Khusa mitrata divasa!
5. Bangla - Subha bandhutba dibasa
6. Marathi - Aanandee maitree divas
7. Malayalam - Santeasakaramaya sahrda dinam
8. Kannada - Sneha dinacaraneya subhasaya
9. Telugu - Sneha dinotsava subhakanksalu
10. Tamil - Iniya natpu nal
Remember, your vibe attracts your tribe. With so much intolerance already growing around the country, let this Friendship Day be an excuse to build back the bridges with humility and truth, forget differences or pride or right and wrong and heal the wounds between you and your friends who you care for.
Follow more stories on Facebook and Twitter
Personalise your news feed. Follow trending topics