Lohri 2023: Who was Dulha Bhatti and how's he related to Lohri? Know the story
Jan 10, 2023 03:38 PM IST
Lohri 2023: This festival observes the sacrifices and the greatness of Dulha Bhatti. Who was he? Know all about him here.
Lohri 2023: The special time of the year is here. Lohri, one of the largest and the most colourful festivals of the country is slated to be celebrated in a few days. This is the time of the year when people welcome the crop harvest and engage in festivities through dance and music around the fire. Mainly celebrated in the states of Delhi, Punjab, Haryana, Himachal Pradesh, and the Jammu region of Jammu and Kashmir, Lohri observes the last of the coldest days of the year. These states experience chilling winter this time, and hence, before the last bit of the winter season goes away, they engage in festivities around the fire.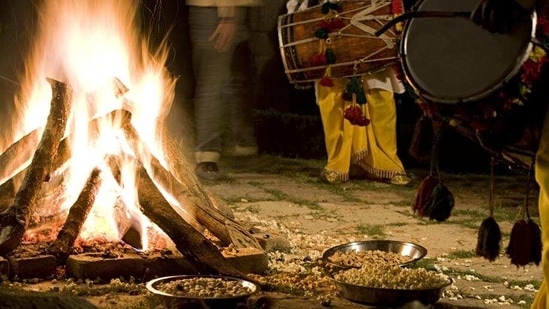 Lohri 2023 will be celebrated on January 13. It is observed that Lohri is celebrated one day before Makar Sankranti. During the festival, the Hindus and the Sikhs gather around the bonfire and bask in festivities of fresh homecooked snacks, dance, music and other celebrations. This festival is also marked by a famous folktale. The folktale is that of Dulha Bhatti. It is believed that Mughal emperor Humayun murdered Dulha Bhatti's father Farid Khan and grandfather Sandal Bhatti, on the charge of refusing to pay tax to the Mughal emperor. In order to spread terror regarding the punishment for not paying tax, their skins were packed with wheat hay and hung outside the village of Bharwa.
Stay tuned with breaking news on HT Channel on Facebook.
Join Now
ALSO READ: Lohri 2023: Is Lohri on January 13 or 14? Date, timings and all you need to know
Dulha Bhatti lost his father and grandfather four months before being born. However, he grew up to be a rebel himself, and was often referred to as the Robin Hood of his time. He used techniques to loot from the rich and give to the poor, the ones who are oppressed. Referred to as a dacoit by Akbar, Dulha Bhatti is fondly remembered as the one who rescued women held as slaves by the Mughal, and arranging their weddings.
Lohri celebrates the greatness of Dulha Bhatti. During the festival, Punjabis remember the sacrifices done by Dulha Bhatti in creating better living conditions for his people. Lohri also welcomes the warmer weather, signified by the bonfire.