Check out these preventive measures for migraine management
Updated on Jun 28, 2022 03:00 PM IST
Migraine patients resort to over-the-counter painkillers and ignore persisting symptoms, thus reducing the chances of early intervention. Doctors spill the beans on some preventive measures for migraine management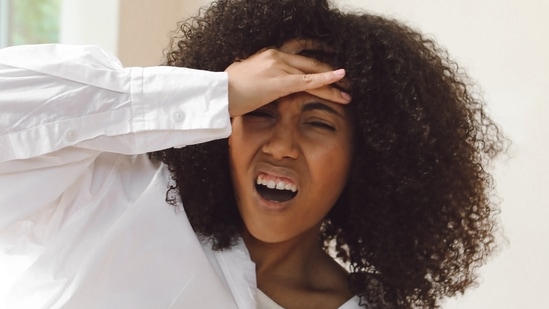 Migraine is a neurological disease, commonly characterised by a pulsing or throbbing pain in one side of the head and one aims to reduce this pain, given the intensity of the pain however, lack of awareness is a major cause of worsening migraine in patients. In India, over 213 million people suffer from this disease, most of whom are probably unaware that, although a chronic disease, migraine is treatable and manageable.
Migraine patients resort to over-the-counter painkillers and ignore persisting symptoms, thus reducing the chances of early intervention. It is important to visit a neurologist to control the condition at the right time and avoid it from progressing further into chronic migraine however, once diagnosed, patients tend to entirely rely on medication, but medicines are just a part of migraine prevention.
In an interview with HT Lifestyle, Dr K Ravishankar, Specialist in Headache Medicine at Mumbai's Jaslok and Lilavati Hospitals, said, "There is a lack of awareness around the condition of migraine, which is why people fail to understand their key symptoms. It's important to know the features of migraine to self–recognize this condition. Recurrent disabling headaches, accompanied by nausea and vomiting which are triggered by light and noise and other environmental factors are key things one must be aware of. Additionally, headaches that last beyond 24 hours must be investigated correctly. It is also important to be aware that migraine is an inherited tendency and the predisposition to recurrent headaches is transmitted through genes."
According to Dr Jagdish B Agadi, Senior Consultant Neurologist at Apollo Hospital in Bangalore's Seshadripuram, maximum number of patients try to pass off migraine as just another headache which leads to failure of diagnosis or misdiagnosis. He said, "About 30-40 per cent of patients who suffer from migraine mistake their condition for something else, thereby delaying their diagnosis and coming in for treatment at a later stage. Sometimes, a low frequency headache can grow into a high frequency headache, and high frequency headache into a chronic migraine. Patients tend to overuse the drugs and may easily move onto the medication overuse headache."
He suggested, "Some of the preventive measures are to meticulously identify the triggering factors of migraine. Additionally, it is important to educate patients about these triggering factors, abortive medications and the importance of compliance with preventive medicines. When patients understand the importance of early intervention it helps them find better ways to control this condition. With proper diagnosis, accurate treatment, and lifestyle changes the quality of life of migraine patients can be improved considerably. Consultation with a neurologist for the treatment is of utmost importance as they can guide the patient towards an integrated treatment method based on the severity of the condition."
The Triggers
Identifying triggers is crucial in avoiding migraine attacks. Avoiding these triggers necessitates making healthy lifestyle choices.
Dr JD Mukherji, Principal Director and Head of Neurology at Max Healthcare in Delhi's Saket, said, "Loss of consciousness, drowsiness, convulsions are clear warnings of an underlying serious disease. However, unfortunately not many people know that Migraine can be controlled by 80-90%. Healthy lifestyle choices such as avoiding late nights, food items such as cheese and chocolates, and irregular eating habits coupled with preventive medications can reduce the severity of migraine pain and also prevent them."
He added, "There can also be external or environmental triggers such as a change in weather or barometric pressure that can affect migraine patterns. Hot temperatures, high humidity, and even rainy days can induce bad headaches. Stepping indoors or regulating the room temperature could minimize the effect of the harsh surroundings. It is also important for one to avoid flashing lights, the bright sun, or loud noises as these are common sensory stimuli that can set off migraine attacks."
Gender-related differences in migraine
The prevalence of migraine in women is twice as compared to men. The hormonal changes among women trigger bad migraines and sometime they also suffer from menstrual migraines. While exercising can regulate migraines due to estrogen fluctuations, excessive physical exertion can also trigger a migraine. According to specialists, moderate aerobic exercises or lightweight exercises such as yoga can prevent migraines or make them less severe for both men and women. Additionally, exercising relieves stress, a major trigger for bad migraine attacks. Since migraines and stress go hand-in-hand, it is important to manage personal and professional time wisely and avoid overworking.
Shrugging off a migraine-induced headache with a painkiller is a short-term solution. Leaving it untreated can have profound detrimental effects on one's quality of life. Hence, early diagnosis is crucial. Migraine is a chronic, neurological condition but it can be well managed with timely treatment. Being mindful and making some lifestyle changes can provide an almost ' migraine-free' life.
Personalise your news feed. Follow trending topics