Measles outbreak: How to protect your child from measles; expert offers tips
Nov 27, 2022 03:48 PM IST
A large number of children have been detected with measles in Mumbai which has caused panic among parents. Here are tips you must follow to protect your kid from measles.
Measles outbreak in Mumbai has become a cause of concern as cases continue to rise and hospitalisations increase. The disease that initially shows up with symptoms like fever, dry cough, sore throat, runny nose, conjunctivitis, rash, can turn severe and deadly in due course of time. It has killed 12 children in Mumbai so far according to reports. From getting Measles-Mumps-Rubella (MMR) vaccine, avoiding crowded places to washing the child's hands thoroughly, it's important to prevent measles infection among kids. The highly infectious spreads through the air through tiny respiratory droplets when one coughs or sneezes. Measles symptoms appear around 14 days after exposure. (Also read: Measles outbreak: Important vaccines your child must get for protection from deadly diseases)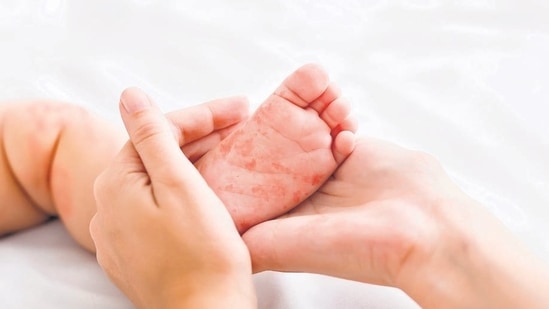 COVID LOCKDOWN MAY BE THE CULPRIT
Unvaccinated children are more at risk of getting measles and have 70% higher mortality risk compared with vaccinated children. Pandemic could be one of the reasons behind measles outbreak in Mumbai as according to WHO, nearly 40 million children globally missed a measles vaccine dose last year and there were an estimated nine million measles cases and 1,28,000 deaths in 2021. Apart from Mumbai, measles cases are also being reported in Gujarat, Bihar, Kerala, Jharkhand and Haryana.
HOW MEASLES SPREADS
"Measles causes a rash that starts on face and spreads all over body. It starts with flu like symptoms of cold, cough and red eyes and is more likely to spread and cause outbreaks among those who are unvaccinated. You will be shocked to know that it has no cure but the MMR vaccine or Measles-Mumps-Rubella (MMR) vaccine is the only way to keep it at bay. Along with Covid-19 and monkeypox, even the measles outbreak is worrisome for parents," says Dr Suresh Birajdar, Neonatologist & Paediatrician, Motherhood Hospital, Kharghar.
A large number of children have been detected with measles in Mumbai which has led to panic among parents. The measles virus spreads via air through droplets when one who is infected tends to sneeze or cough and the other person inhales the infected droplets. It can also spread by direct contact with fluids from the nose or mouth of an infected person. It is the need of the hour to protect children from infection with this deadly disease.
TIPS TO PROTECT KIDS FROM MEASLES
Dr Birajdar suggests important tips to protect your child from measles infection:
DISINFECT RAPIDLY TOUCHED SURFACES
Measles is contagious and the virus can live for up to 3-4 hours on surfaces infected patients have touched. So, it is essential to disinfect frequently touched surfaces such as doorknobs, handles, faucets, kitchen countertops, and furniture.
GET YOUR CHILD VACCINATED
Parents should make sure that their children take the Measles-Mumps-Rubella vaccine as suggested by the expert.
GIVE PLENTY OF FLUIDS TO CHILDREN
It is important to take care of immunity to protect against virus. Children should be given plenty of fluids to stay hydrated.
AVOID CROWDED PLACES
Limit the child's exposure to crowds. Avoid going to crowded places or limit visitors at home.
WEAR MASKS
Parents should make sure that their children wear masks by covering their faces in public.
MAKE SURE YOUR CHILD WASHES HANDS
Try to wash the child's hands with soap and water to avoid any kind of infection.
EXCLUSIVE BREASTFEEDING FOR INFANTS
Breast milk is loaded with antibodies and helps to fight infections. It is essential to exclusively breastfeed babies during first six months and thereafter along with complimentary diet till 18 months of child's age.