Rujuta Diwekar shares 6 amazing benefits of Sabudana Khichdi, calls it superfood for women: Read more details
Published on Mar 06, 2022 02:53 PM IST
Rujuta Diwekar listed six amazing benefits of the quintessential upavas food, Sabudana Khichdi, on Instagram today. She called this gluten-free dish a superfood for women that helps them during menopause, improve fertility, and more.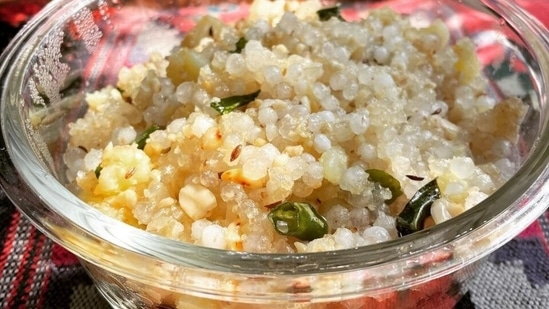 Sabudana Khichdi is the quintessential upavas (fast/vrat) delicacy that one can find in almost every Indian household. The sudden popularity of plant-based foods and vegan lifestyle on social media has helped this super-nourishing dish gain more popularity. Celebrity nutritionist Rujuta Diwekar, who has trained stars like Kareena Kapoor Khan, loves this common delicacy. She believes that it is a superfood for women. She even took to Instagram today to list six amazing benefits of Sabudana Khichdi, and you will be amazed to know all the secrets that this gluten-free and dairy-free dish packs.
Rujuta took to Instagram on Sunday to share a picture of Sabudana Khichdi on her timeline and reveal that it is beneficial for 'improving our health and hormones.' She called this 'quintessential upavas delicacy' a superfood for women and also one of the favourite dishes in Indian households. She captioned her post, "Once looked down upon in her maika as just empty calories, the sabudana khichdi is gaining fandom across the globe for being dairy-free, gluten-free nutritious meal."
ALSO READ | Rujuta Diwekar's exercises can help anyone fix back, neck and shoulder pain caused by long hours of sitting: Watch
Sabudana Khichdi Benefits:
Apart from listing the six benefits of this gluten-free dish for women, Rujuta also mentioned the amount one should eat and during what time. Read all about it below:
If one wants to excite their taste buds, stroke appetite, and accelerate recovery when recovering from flu, fever or any other ailment, they can have Sabudana Khichdi. Have a small bowl of the dish once the meds or antibiotic course ends.
One can have one bowl of Khichdi to prevent excessive bleeding in menopause and endometriosis. They can consume it once a week or on the "fourth or fifth day of periods if bleeding is still excessive."
A small bowl of Sabudana Khichdi can help improve fertility levels, especially when a woman is trying to get pregnant or freeze eggs. One can have it twice a week at any preferred time once the injections start.
ALSO READ | Rujuta Diwekar's 15-minute daily workout for strength and stretching is so easy anyone can do it: Watch
During the peri-menopausal phase, women can have one small bowl of the Khichdi if they begin to get headaches or extreme fatigue just before periods. Have the dish on the day your head gets heavy, and there's excessive bloating.
Having Sabudana Khichdi can also help women who see spotting around ovulation. According to Rujuta, they should have a small bowl around ovulation. Lastly, if you suffer from loss of appetite during Premenstrual syndrome (PMS) week or periods, have one small bowl around lunchtime with Dahi or curd.
Additionally, Rujuta talked about how Sabudana has captured the attention of nutritionists and chefs globally because of its qualities. She wrote in the caption, "This #plantfood (sabudana) with peanuts, curry pata, dhaniya, spices (jeera, mirchi), good fat (coconut, ghee), is winning hearts and souls of nutritionists and chefs across the globe. But old food being touted as a novel food for its phenolic compounds, antioxidant molecules, etc, is old news. This post is about news that is older than the resurgence of plant food or love for legumes. It's about your nani-dadi's wisdom and therapeutic ways in which khichdi is used in Indian kitchens."
Personalise your news feed. Follow trending topics