How to take care of your cat's heart in winter
Nov 27, 2022 06:30 PM IST
Heart diseases are common in cats and during winter taking extra care is necessary. Here are tips by a veterinary doctor.
The risk of heart trouble increases in winters and while you follow measures to protect your heart in the cold months, do not forget your cat who may be hiding signs and symptoms of cardiac problem. Heart diseases are of many types but some cats remain asymptomatic until there is a serious damage to their heart. To ensure your cat's heart is healthy, you must pay attention to your feline friend's excess weight which could put them at risk of heart disease. Plan activities with them that also help them shed weight and keep you healthy at the same time. A balanced diet is not just important for humans, your cat too can get benefitted from it. Keep visiting their vet who can spot a heart murmur through stethoscope which could be a sign of heart disease, apart from ensuring an annual health check-up. Most importantly, love your cat, as a happy cat is surely a healthy cat. (Also read: Signs of mental illness in cats you shouldn't ignore)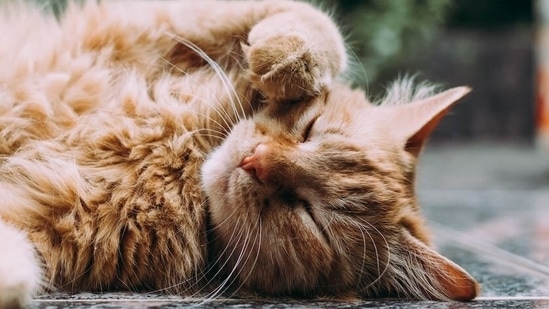 "Cats are masters of disguise when it comes to discomfort and disease. They try hard not to let you know when they are weak, in pain, or feeling sick. Heart diseases are common in cats and during winter taking extra care is necessary. Many types of heart diseases are observed in cats," says Dr. Aishwarya R, Veterinary Officer at Wiggles.
Heart issues in cats
"The most common heart disease in cats is called cardiomyopathy (the left atrium of the heart muscle thickens, making it difficult for the blood to be pumped). When this happens, fluid builds up in the lungs, a process referred to as congestive heart failure," says Dr Aishwarya.
Dr Aishwarya also suggests ways you can take care of your cat's heart health during winter:
Weight management: A healthy weight is crucial to an energetic and joyful cat. Avoiding obesity is particularly important for those who suffer from the symptoms of heart disease. Cats may experience heart problems more severely if they are carrying excess weight, so keeping a check on your cat's weight is extremely important.
Complete and balanced diet: Diet plays a very important role in the heart health of your cat. Tailor-made, complete and balanced meals for your cat's caloric needs are necessary. Balanced diets help maintain the nutrition levels and keep the cats healthy. Taking care of the diet in winter helps keep the weight in check.
Monitoring heart health: A heart murmur, audible via a stethoscope, is the most common clue of your cat's heart health issues. Blood tests and a complete physical examination at least once a year are highly effective at screening your cat for other diseases that can lead to heart issues. Extra care needs to be taken during winter as breathing issues can be observed this season.
Supplements: Supplemental taurine may be added to certain cat foods, especially diets that are formulated for specific needs such as growth and development or heart disease. Supplementation is relatively safe with no reports of problems associated with excessive dietary taurine in cats. Make sure to cuddle and love your cats during winter as it's the season for a lot of joy. The best thing you can do for their heart is to love and protect them unconditionally.