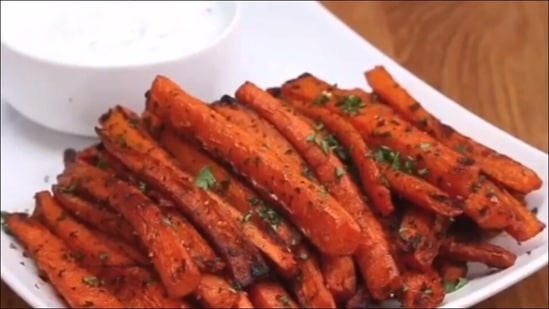 Recipe: Move over the regular French fries and try these crispy carrot fries
Craving French fries? We have a better guilt-free option. Check out the recipe inside of crispy, delicious, baked carrot fries which taste like sweet potato fries and are made without the hassle of deep-frying or excess oil
By Zarafshan Shiraz
UPDATED ON APR 29, 2021 07:57 PM IST
In no way to offend French fries lovers in the house but truth be told, we are taking as many health precautions as we can amid the pandemic, now that we cannot go out to exercise and the safest way is to beware of what lies on our plate. In the magical discovery for food that not only looks and sounds tempting but also shoots up our fitness levels, we stumbled upon a recipe of carrot fries which are crunchy on the outside and soft on the inside.
If you have been craving French fries or potato fries, we have a better guilt-free option. Check out the recipe of crispy, delicious, baked carrot fries here which tastes like sweet potato fries and are made without the hassle of deep-frying or excess oil.
Ingredients:
2 carrots
2 tablespoons olive oil
1 tablespoon fresh parsley, chopped
1 teaspoon paprika
1 teaspoon salt
1 teaspoon pepper
Greek yogurt chive dip
1 cup plain greek yogurt (285 g)
1 tablespoon lemon juice
2 tablespoons chives
¼ teaspoon salt
¼ teaspoon pepper
Method:
Preheat oven to 425°F (220°C). Cut carrots into fries and combine in a large bowl with olive oil, parsley, paprika, salt, and pepper.
Place on baking sheet lined with parchment paper in a single layer. Bake for 20-25 minutes, flipping halfway. Prepare dip while fries are baking.
Combine all dip ingredients in a small bowl and set aside in the refrigerator until ready to use. Enjoy!
(Recipe: Instagram/myfitnessplan)
Benefits:
Carrots are good for eyes as they keep them healthy, protect them against the sun, lowers chances of cataracts and other eye problems. Apart from being highly nutritious with beta carotene, fiber, vitamin K1, potassium and antioxidants, carrots are weight-loss-friendly and also linked to lower cholesterol levels.
Close