Recipes: Start the weekend on a healthy note with Root To Fruit and Jwar Salad
Jan 14, 2023 08:27 AM IST
Making salads is a delicious, healthy art as salad is not a meal - it is a style. So this Saturday, straighten your chef's hat and whip up Root To Fruit and Jwar Salad to tick nutrition for the weekend
They say eat crappy, feel crappy but eat healthy, feel healthy and so, this Saturday, we are giving fitness a chance with a nutritious touch courtesy a glass of Root to Fruit and a bowl of Jwar Salad that only takes a few minutes to whip up. From controlling blood sugar levels to a substantial contribution in weight loss, feeling energetic, reducing bad cholesterol, making bowel movements become normal etc, eating a bowl full of fresh green leafy salad is packed with health benefits.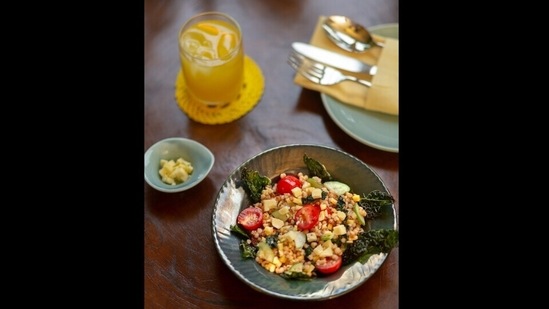 Few know that it is not only good for your stomach but also increases your appetite. Our heart says 'chocolate' but our jeans says 'salad' but the latter need not be boring so, whether you are a big fan of leafy dishes or not, try chock full of delicious flavours in these recipes of a glass of Root to Fruit and a bowl of Jwar Salad and thank us later.
1. ROOT TO FRUIT
Ingredients:
1 piece of fresh turmeric
Handful basil leaves
70 ml lychee Juice
20 ml lemon juice
Soda 90ml
Method:
Gather all ingredients in a cocktail shaker and shake with ice. Pour in a rocks glass filled with ice. Top up with soda and garnish with orange slice.
2. JWAR SALAD
Ingredients:
100 gm Organic white jwar
100 gm Organic red jwar
80 gm cucumber, diced
10 gm raw mango, diced
5-6 kale leaves, torn
3-4 kale leaves, for chips
40 gm dry cheddar cheese curds, diced
10-15 cherry tomatoes, halved
Ingredients for dressing:
20 ml Extra virgin olive oil
1 tsp sabja seeds
3 tsp apple cider vinegar
Pinch of black pepper
Salt, to taste
Method:
Soak the jwar overnight. Next morning, drain the water, run under fresh water & pressure cook till soft but still retain a bite. Drain and cool. Meanwhile, heat refined oil in a wok & fry the kale leaves till crisp. Sprinkle with salt. Mix the other ingredients for the salad and keep ready.
For the dressing, whisk the oil and the vinegar together and add the other ingredients. Just before serving toss the dry ingredients with the dressing. Serve cold.
(Recipes: Chef Udit Maheshwari)