Tips for parents and teachers to improve critical thinking in young students
Jan 14, 2023 07:42 AM IST
Introducing critical thinking at the start of the educational journey makes learners self-assertive and confident. Here's how parents and teachers can help in improving critical thinking in young students
Critical thinking is an essential life skill at the forefront of learning as it aids students in reflecting and understanding the consequences of their actions and solving problems. Therefore, it's imperative to instill the ability of critical thinking in children through education from an early age.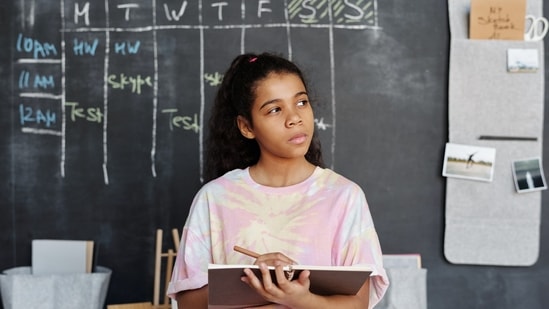 A study from Michigan State University Extension explained that a child's natural curiosity helps lay the foundation for critical thinking, which should be developed at all stages of education and learning, from primary school to college. In addition, introducing critical thinking at the start of the educational journey makes learners self-assertive and confident.
In an interview with HT Lifestyle, Anil Somani, Chairman of FOSTIIMA Business School in Delhi, shared, "Traditional learning emphasizes rote memorization while missing out on developing abilities that will allow students to think creatively. In the process, we forget how important it is to be open-minded, fair-minded and unbiased. Today, decision-making and problem-solving are two critical components of any good business school program. This can only be accomplished through fostering critical thinking abilities in students, as critical thinking is a skill that is required not only in the workplace but in aspects of life. Hence, by applying the analytical tools to get the most optimum solution to solve problems and build strategies that make an employee do better at their jobs is what makes them a better professional."
He highlighted, "Individuals with critical thinking skills can attain long-term success in the profession. Students can enhance their critical thinking skills by formulating their own opinions and becoming self-assured based on logical and factual facts. However, they should focus on the problem first because they need to get to the root of the problem to get the ideal solution. It is an area where the student needs to brainstorm to get creative and innovative solutions and alternatives and bounce back with out-of-the-box solutions at the end. Academic circles should incorporate games, active debate, and brainstorming exercises to enhance brain function. As a result, the teachings will become more interesting and memorable, and students will employ critical thinking abilities to recognize and build strong arguments supporting their opinions and conclusions."
Echoing the same, Prof Usha Patel, Director-Academics at IIAD, said, "Critical thinking is an essential life skill that all young students should learn in today's rapidly changing world. By teaching our students how to question information and think analytically, we will better equip them to deal with life's challenges. Here are a few salient strategies to improve critical thinking, such as analyze own thinking, analyzing arguments, and developing problem-solving skills."
According to Pratibha Sharma, Academic Director at Bhai Parmanand Vidya Mandir, to create a classroom full of enthusiastic and engaged learners, it is crucial to develop critical thinkers in the classroom itself. She revealed, "Questioning can build and improve critical thinking skills. Create inquiries that demand more research from the students. Open-ended questions allow students to assess their understanding of the subject at hand. Student-focused learning environments foster critical thinking abilities by requiring students to reflect metacognitively. Inquiry-based learning is a great way to engage students' critical thinking and get them involved in the learning process. By offering a framework for inquiry that aids in students' comprehension, problem-based learning is an approach that motivates students to employ critical thinking abilities. One of the key critical thinking components is the capacity to pose questions and evaluate responses. Students take ownership of their work when collaborating with their classmates, which encourages independence and critical thinking."
As education takes diverse forms in a world affected by a pandemic, it is exceptionally crucial for students to possess skills like critical thinking that will make them future-ready. Thinking critically boosts creativity and enhances how we use and manage our time as critical thinking describes not only the ability to think according to the rules of logic and probability but also the ability to apply these skills to real-life problems which are not content-independent.
After all, today's children are tomorrow's leaders and the spoon-feeding education system has changed for the better. It's an era of better education.