2019 Lok Sabha polls: Mumbai had its heart in the right place this election
Considering the general somnolence of the metropolis where neither the rich nor the poor have the time for much, but the business of living, it was heartening to note that the middle class still remembers the man who died saving their city from Pakistani terrorists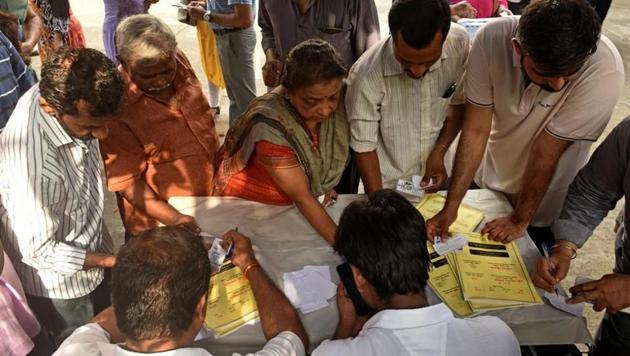 Updated on May 01, 2019 08:42 AM IST
As the heat and dust of the election settles in Maharashtra, I wonder why the BJP seems to have risked six seats in Mumbai for just one in Bhopal. I was stunned by the groundswell of support for martyred police officer Hemant Karkare who was insulted by the BJP candidate in Bhopal, Pragya Thakur. Considering the general somnolence of the metropolis where neither the rich nor the poor have the time for much, but the business of living, it was heartening to note that the middle class still remembers the man who died saving their city from Pakistani terrorists. They were furious and outraged by Pragya Thakur's alleged curse on Karkare, which she claimed took his life.
If social media is any indication of the mood of the people, there were hundreds of appeals to the voters to vote against the terror accused and vote out the party, which insults martyrs. How much effect that might have had on voters I cannot fathom, but while the city was as sleepy as ever on polling day, there definitely was a marginal improvement in the voting percentage which leads me to believe finally Mumbaikars have been moved by an issue — the insult of a martyr —as they were not for the cause he had died for. During the 2009 Lok Sabha elections, despite outrage and candle light vigils a few months earlier, barely forty percent of the people had turned out to vote. This time at least half the city did.
Considering that the people have felt so deeply about Hemant Karkare, I wonder why the BJP should not just have risked a ticket to a terror accused, but also allowed her to shoot off her mouth to such an extent that it would damage six to eight seats in a crucial state like Maharashtra. For this is also likely to affect seats like Malegaon and Bhiwandi with sizeable Muslim population. Already, people from Malegaon are headed towards Bhopal to campaign against the BJP. It stands to reason that this time they would not have voted for the BJP, which had won the seat handsomely in 2014.
But that's not all. I also wonder at the blatant disregard by the ruling dispensation of the laws in this country. Some years ago, I remember, film star Sanjay Dutt had wished to contest the elections on a ticket of the Samajwadi Party from Uttar Pradesh. The Congress was in residence in both Maharashtra and the Centre but the party did little to aid the brother of their sitting MP Priya Dutt. Sanjay Dutt had to wait for the judicial verdict in his own terror case — the court later declared that he was not a terrorist, but he had to nevertheless serve his time out for possessing arms and ammunition and associating with hard core terrorists.
Sanjay's avowal of his innocence was similar to that of Pragya Thakur's (though he was roughed up by cops, he did not charge them with torture) and if the BJP believes her plea of innocence, they could have waited for her acquittal by the courts, before risking being labelled as supporters of saffron terrorism and seen as a party that has no respect for its martyrs, a party that would support someone who had no qualms about claiming that it was her curse that activated an Islamic terrorist to shoot down a patriotic police officer and publicly revel in his death.
Karkare's daughter recently said her father had taught them to believe that terrorism had no religion. He was investigating both Islamic and saffron terrorists, but how many knew that he was a devout Hindu? While posted in Vienna on a United Nations Mission, he wore a tilak publicly in the mornings after his puja, but had no problems sharing his home with a Muslim IPS officer – even brought him eggs and chicken, which were taboo for him. But he had no problems with their consumption by his colleague.
That story was made public by the relative of that IPS officer after Pragya Thakur's insinuations. I could not help thinking that Karkare was a true Hindu who could co-exist with people of other religions, allow them their food habits (unlike the lynchings for beef-eating that has recently overtaken India) and yet deal with a firm hand with alleged terrorists from whichever religion.
Patriotism was the key to his existence and patriotism was the reason for his death. Anyone who says otherwise should not be supported and I am glad that Mumbai did not.
Close Story