Lok Sabha elections 2019: Raj Thackeray rallies hurt BJP, but can Opposition gain?
Updated on Apr 21, 2019 07:43 AM IST
From seeking Narendra Modi's ascension to Prime Minister in 2014 to calling for his ouster in 2019, Maharashtra Navnirman Sena (MNS) chief Raj Thackeray's political objective has changed quite dramatically in five years.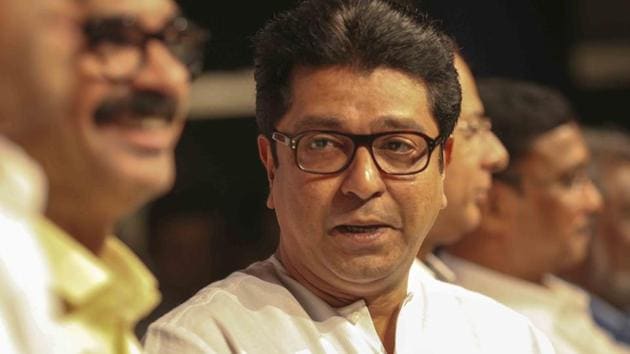 From seeking Narendra Modi's ascension to Prime Minister in 2014 to calling for his ouster in 2019, Maharashtra Navnirman Sena (MNS) chief Raj Thackeray's political objective has changed quite dramatically in five years.
MNS is not contesting the Lok Sabha elections, but Thackeray has been campaigning extensively against the Prime Minister and Bharatiya Janata Party (BJP) chief Amit Shah, across Maharashtra, especially in Maratha- dominated constituencies. That is because Modi failed to keep his promises, Thackeray says in his public meetings, referring to the 2014 poll promises of depositing Rs 15 lakh in every poor person's account, and to bring back money stashed illegally outside India.
Known for his oratorial skills, and his striking similarity to his late uncle and Shiv Sena founder, Balasaheb Thackeray, the MNS chief attracts huge crowds. He uses audio-visual presentations at the venues to pep up his speeches that are laced with humour and sarcasm.
The BJP has so far failed to chalk out a strategy to counter Thackeray, who has become a thorn in its flesh, much to the advantage of the Congress-Nationalist Congress Party (NCP) alliance. Though Thackeray does not directly seek votes for either the Congress or the NCP, his spiteful comments against Modi and Shah leave no room for any confusion. For instance, the MNS chief recently said at a rally that if people can experiment with Modi, why couldn't they do so with Congress president, Rahul Gandhi.
The MNS chief speaks on a range of issues: Pulwama and Balakot, Modi's surprise visit to Pakistan, the Goods and Services Tax (GST) and the controversy over the Rafale jet fighter deal. His common refrain is that the people must choose between democracy and dictatorship.
Addressing a rally in Satara, Thackeray questioned Modi over the February 14 terror attack in Pulwama. He even replayed videos of Modi's speeches before 2014 when he had questioned the then Prime Minister, Manmohan Singh, over terror attacks.
Also read | Raj Thackeray reclaims Marathi space, BJP left fuming
"From where did so much of RDX come from that resulted in the killing of our 40 jawans? Modi should answer this. Who invited Nawaz Sharif to his swearing-in ceremony? Who went to Pakistan uninvited to celebrate Nawaz Sharif's birthday and fed him the cake? Imagine how the families of our martyrs must be feeling," he told the gathering.
In Pune, Thackeray attacked Modi for playing the caste card.
"Modi has double standards. He said one thing before becoming the Prime Minister and did completely reverse after assuming power," he said.
In April 2014, Thackeray had announced that his main priority was to make Modi the Prime Minister. In fact, Thackeray had endorsed Modi as the Prime Minister back in August 2011, when the MNS chief was on a nine-day tour of Gujarat. Thackeray had said that the people of Gujarat were fortunate to have a chief minister like him.
Much has changed since then.
Thackeray has now turned into one of the bitterest critics of Modi and accused him of "cheating" the nation and not fulfilling his promises made in the run up to the 2014 general elections.
Pune BJP chief, Yogesh Gogawale, said Modi took decisions such as demonetisation and GST to put the economy on track and that had "hurt" some people. "Traditional politics has a certain set up and those who suffered due to note ban will obviously raise a hue and cry. I cannot find any other reason why [Thackeray] is opposing the Prime Minister now," he said.
Political analysts said the obvious reason for the fallout between Thackeray and Modi is the Shiv Sena. "When he realised that BJP is not going to dump Shiv Sena and align with his MNS, he started attacking Modi," Pune-based political observer, Vishwambhar Choudhari, said.
The BJP has asked Thackeray to specify who he is campaigning for since the MNS has not fielded any candidates in the Lok Sabha polls. "He should first of all come clean on this. In a parliamentary democracy, people have the right to express their views but he is not telling the voters why and for whom he is campaigning," Gogawale said.
The ruling party has approached the Election Commission to add the expenses of his rallies to the accounts of the Congress and the NCP on grounds that he is indirectly campaigning for the two parties.
Also read | BJP, MNS get into a war of videos
Senior Congress leader, Anant Gadgil, said Thackeray was independently addressing election rallies and the opposition parties were neither sponsoring those nor had they provided him with any platform.
Will the huge crowds he is drawing translate into votes for Congress-NCP? Political experts say only the election results can tell.
"He is getting a good response because there is no good orator in any political party and nobody in Maharashtra can match him in those skills," political analyst Choudhari said.
"But whether the crowds he is attracting in his rallies will translate into votes is something we will come to know only after the elections. We must also remember that even Balasaheb used to get good public response but that could never transfer into votes," he added.
Close Story
Personalise your news feed. Follow trending topics