Muharram violence: Communal clash breaks out in Ballia's Sikandarpur, 6 injured
Oct 02, 2017 10:34 AM IST
Section 144 has been clamped in the town after the clash that erupted following rumours of stone pelting on a Tazia procession.
VARANASI: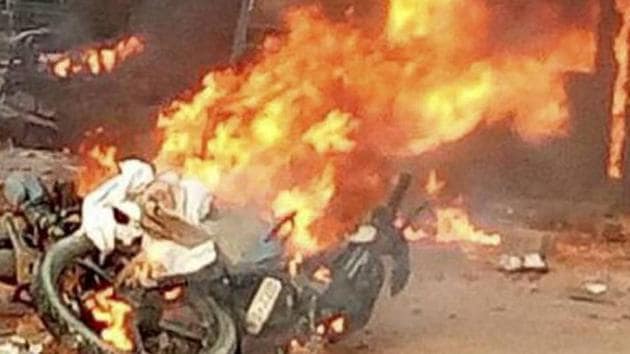 Six people were injured and four two wheelers set on fire when people of two communities clashed following rumours of stone pelting on a Tazia procession brought out during Muharram in Uttar Pradesh's Ballia on Sunday evening, police said.
According to police the communal clash erupted when Tazias were passing from Jalpa Chowk near Rasidia Masjid at the district's Sikandarpur town.
As the rumour of stone pelting on the procession spread, two communities confronted each other and hurled brickbats. In the muddle, unidentified anti-social elements attacked people with sharp-edged weapons, injuring six.
They also set on fire two bikes and two bicycles.
Sikandarpur is the second UP town after Kanpur tio witness violence during Tazia procession taken out on the occasion of Muharram, commemorating the death of Imam Hussain ibn Ali, the grandson of prophet Muhammad.
Clashes in Kanpur left nearly 30 people, including five policemen, injured while nearly 10 vehicles and four shops were either set afire or ransacked.
Police resorted to mild cane charge and lobbed tear gas shells to disperse the crowd. Commissioner Ravindra Naik and deputy inspector general of police Vijay Bhushan along with heavy police force also rushed to the spot to bring the situation under control.
Section 144 has been imposed in the town and heavy police force has been deployed, to prevent any further flare-ups.
Injured were rushed to a nearby government hospital.
The DIG said efforts were being made to track down the rumour mongers, and strict action would be taken against those who tried to breach the peace.
"Situation is completely under control. Heavy police force has been deployed in the town. Cops on duty have been instructed to keep a strict vigil in the area during night," the DIG added.