Are we finally getting over our obsession with English as a benchmark of competency?
Seems like we're shaking off our colonial hangover to embrace our native tongue. At least, fans' support for Sarfraz Ahmed, who was trolled for his poor English, points in that direction.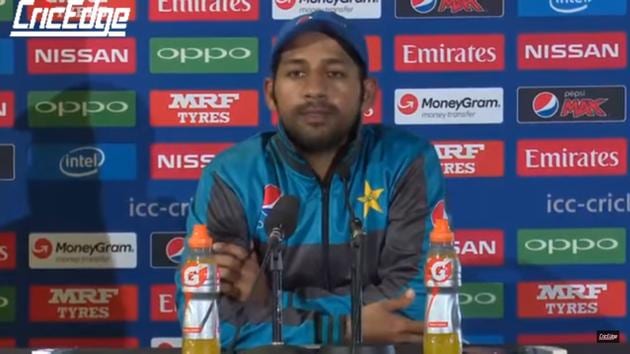 Updated on Jun 16, 2017 10:32 PM IST
Captain of the Pakistani cricket team, Sarfraz Ahmed, was the talk of the town recently for more than just cricket. A video of him struggling to speak in English, during the post-match conference of England-Pakistan match (that Pakistan won), did the rounds on social media, with many mocking Sarfraz's poor English. This, however, seemed to have touched a raw nerve with many Pakistanis as well as Indians, who sprang to the cricketer's defence, and questioned why English is often considered the benchmark of competency. Several Indians, too, have time and again been ridiculed for not being fluent in English.
Fans pointed out (and rightly so) that English is neither India nor Pakistan's first language, so why pass judgment? "I'll not make fun of Sarfraz. He can speak good Hindi. English isn't the benchmark of a genius. He is a sportsman, and he played well for his country," Neeraj Sharma, a Facebook user, commented on the post mocking Sarfraz. Another user, Tapas Paul, echoed the sentiment, and wrote, "Why English is a standard to judge people? His duty is to play and win for his country. And he did that (sic)."
Joy Burning Lion, another social media user, put forth a valid argument in Sarfraz's favour: "Leo Messi, CR7, Putin speak their native language wherever they go, we don't say anything to them. But when we don't speak English, and then we get judged?"
Two years ago, British journalist Aatish Taseer wrote an article, titled How English Ruined Indian Literature, for The New York Times. The writer went on to make a thought-provoking point on how English is not considered a language, but a class in India; English is the language of the elite, and one's self worth is directly proportional to their English speaking ability in the country. The article also underlined that maybe the reason for this is that we haven't got over our colonial hangover.
Fast forward to 2017, and the recent Bollywood film, Half Girlfriend — based on a novel of the same name by Chetan Bhagat — also emphasised on the fact that one should not be judged on the basis of their proficiency in English. When discussing this, how can one not mention the 'flag bearer of our native tongue', Prime Minister Narendra Modi? He has famously spoken in Hindi at seminars and forums across the world over the past three years. He opted to use translators for all his diplomatic meetings.
So, is Hindi 'cool enough' for Indians? Here are some opinions:
"I think the rise of India as a global power has put it in a position of parity with the Western countries. This growth has led to a sense of pride regarding our culture, including Hindi. English is not the measure to judge someone's intelligence or ability. Hindi is our mother tongue and we should not be hesitant of using it anywhere". —Rustam Mazumdar, third year student, Delhi College of Arts and Commerce
"Hindi is the fourth most widely spoken language in the world, and yet a certain strata of people find it beneath them to converse in their native tongue. Hard fact - If you want to get things done in India, you best be speaking in Hindi. Yes, knowledge of English is most important as it's the global tongue, but there's no reason to be embarrassed in speaking ones native tongue. When we hear our PM address in Hindi we should feel the same sense of pride, as the French or Chinese do in their native tongue. English language proficiency isn't the benchmark for competence for a sportsman, politician or people as a whole" —Mihir Misra, entrepreneur
"Earlier, people would ape the West. Now, they're realising the need to not only be patriotic, but also open-minded. It's true that English is considered as the language of the elite in our country, but that's slowly changing, and it's a good thing." —Raghav Bindal, advertising professional
"In India, people don't pride in speaking in Hindi because they fear that they'd come across as inferior to the ones who can speak fluent English. But we should be proud of our language... India was ruled by the Britishers, hence the fascination with English language." —Akshay William, third year pass out from BA (hons) English, Amity
"The hegemony of English is a legacy of our colonial past . After independence, it was strengthened by the Indian elite to preserve their position of power and to maintain the linguistic divide based on the hegemony of English and the oppression of the vernacular.Imposing Hindi, Urdu, Sanskrit or any one language is not the way to get over this divide. All of India's national languages should be given their due. They should be established as the language of education and administration. Given the stage of technical revolution, it's not something that cannot be achieved. Everybody loves her mother tongue. If they are going for English, it's only for the sake of security and survival. Once our desi languages are accepted for education and administration, the colonial fear of English will go away. There still will be many users of English language, but it no longer will be the language of power."
—Ashutosh Kumar, assistant professor- Hindi , Delhi University
What do you think? Tell us in the comment section below
Close Story