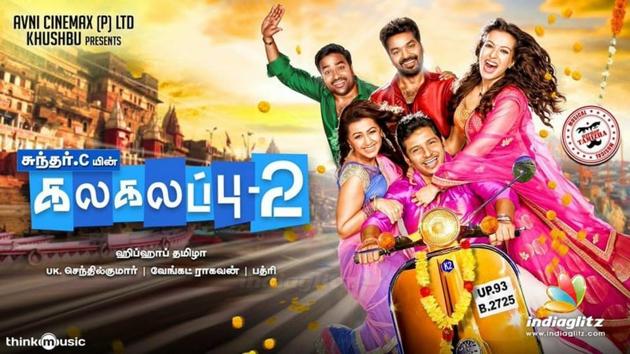 Kalakalappu 2 movie review: Despite stars and comedians, film isn't half as entertaining as first one
A popular franchise and a gamut of stars and comedians can't save Kalakalappu 2. While the first part has some genuinely comic moments, the second part of the film falls flat.
Hindustan Times, Chennai | By Karthik Kumar
UPDATED ON FEB 09, 2018 05:44 PM IST
Film: Kalakalappu 2
Director: Sundar C
Cast: Jiiva, Jai, Shiva, Nikki Galrani, Catherine Tresa, Radha Ravi, Robo Shankar and Yogi Babu
Rating: 2/5
Sundar C's Kalakalappu, which released a few years ago, worked due to its overall entertainment factor. The excitement was high when the second part in the franchise was announced and the gamut of stars and comedians it brought together was one of the highlights of the film. Unfortunately, Kalakalappu 2 is not a match to the first part and it could be even considered an insult to the original.
The film features so many actors that you lose track of them at some point in the film. Robo Shankar, for instance, shines briefly in his portion but he suddenly disappears from the story and there's explanation to back his exit. It's a multi-starrer but except for the lead actors the rest of the cast has absolutely nothing worthy to contribute. The first part had genuinely some good comic stretches but there are hardly any laugh-worthy moments in the second part.
The story revolves around Jai and Jiiva and a mansion. Jai is the heir of a family mansion in Kasi and he has take ownership of it from Jiiva, whose family has been looking after it for many years. Both of them have something in common. They've been duped of their money by Shiva, who plays a con. What happens when they cross paths and the events that follow forms the crux of the film.
Jiiva and Jai, even in roles that doesn't offer much scope to perform, play their parts fittingly. Shiva comes half into the story but earns some genuine laughs for his antics and witty one-liners. Nikki and Catherine have absolutely nothing to do other than look glamorous.
Kalakalappu 2, barring some laughs which don't make up for the weak writing, has absolutely nothing new to offer in terms of entertainment. Sundar C feels it's ok to make characters beat the crap out of each other and is hopeful that audiences will enjoy it.
Follow @htshowbiz for more

Close