12 new stations in Mumbai will monitor air quality now
MPCB and the environment department also launched a mobile application on the plastic ban, which will inform citizens about details of the ban.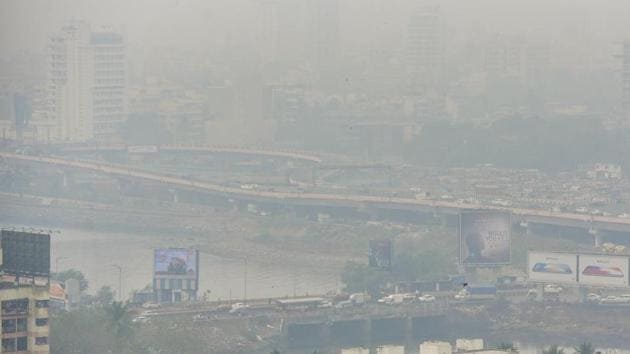 Updated on Jun 07, 2018 12:20 PM IST
The Maharashtra Pollution Control Board (MPCB) has finally launched 12 of 15 continuous ambient air quality monitoring stations (CAAQMS) in the Mumbai Metropolitan Region (MMR).
MPCB and the state environment department also launched a first-of-its-kind mobile application – Plastic Bandi – on the state government's plastic ban that will inform citizens about details on the ban. It is expected to come into effect from June 23, and allows users to communicate their issues regarding the ban.
The new initiatives were inaugurated on Wednesday by state environment minister Ramdas Kadam. "Maharashtra was the first state to promulgate such a plastic ban, and is taking active steps to improve air quality by developing a detailed action plan. All other states are following efforts that have already begun in many parts of the state," said Kadam.
"We have decided to award ₹25 lakh to municipal corporations, ₹15 lakh to municipal councils, and ₹10 lakh to village panchayats as a reward for the successful implementation of the plastic ban," he said.
While 10 air monitoring stations were inaugurated across Mumbai, one each was started in Navi Mumbai and another in Kalyan, said officials.
"Air quality evaluation of our current environment is the primary stage for improving air quality around us. Not only will citizens have access to location-wise pollution levels, it will be easier for us to implement pollution abatement measures," said P Anbalagan, member secretary, MPCB. Air quality experts said it was important to expand the monitoring network in Mumbai because the current monitoring is extremely inadequate.
Meanwhile, the Plastic Bandi app issues a unique password for every new mobile number that registers on the app. "The app will help citizens understand what the plastic ban is about, details of the notification issued in March, banned elements, penalties, implementing institutions, and public awareness initiatives," said Satish Gavai, additional chief secretary, state environment department.
Close Story