68-year-old regulates traffic for 4 hours daily in Mumbai's Nalla Sopara
Hindustan Times |
, Mumbai
Ram Parmar
Feb 05, 2018 10:00 AM IST
Ramdayal Yadav has been regulating traffic after his son's death in an accident
Retired army man Ramdayal Yadav, 68, voluntarily regulates traffic near the crowded Nalla Sopara (East) police station every day.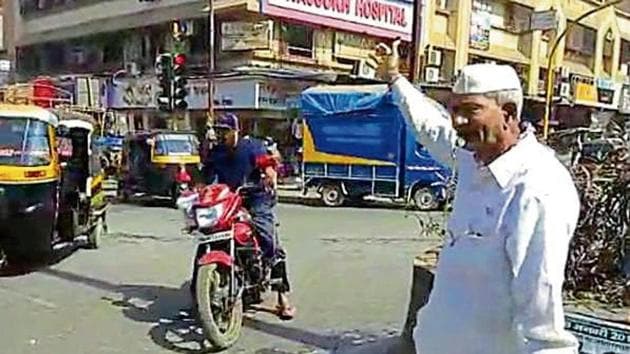 He served in the Indian army as a cook from 1962 to 1982. He opted for voluntary retirement service after the death of his son in an accident at Bhayander. He has three daughters, of whom one is widowed, who is the one he lives with.Before moving in with her to Nalla Sopara in 2013, Yadav lived in Kandivli, where he first began to regulate traffic after seeking permission from the police. "Owing to heavy traffic, people used to honk a lot near my house. When I found out that only one traffic constable had been stationed in the area, I decided to do something about it," says Yadav.
After shifting, he sought approval from the Tulinj police station to continue the practice. "This daily routine keeps me physically and mentally fit," said Yadav. Since Yadav is not authorised to fine motorists, Yadav alerts the traffic officials when he notices anyone flouting traffic rules.
Kerubhau Kolhe, senior police inspector, Tulinj police station, said, "He has made our job easier, given that it is difficult to manage traffic in this area. Yadav stands near the police station for four hours every day. Thanks to him, motorists are beginning to obey traffic rules."