Air pollution is depriving Delhi of vitamin D: Study
Jul 28, 2018 12:58 AM IST
Low Vitamin D levels can lead to bone mineralisation resulting in bone softening diseases such as rickets among children, and osteomalacia and osteoporosis in adults
Increasing air pollution levels in Delhi over the last 15 years is depriving its citizens of Vitamin D – the essential sunshine vitamin, finds a new study.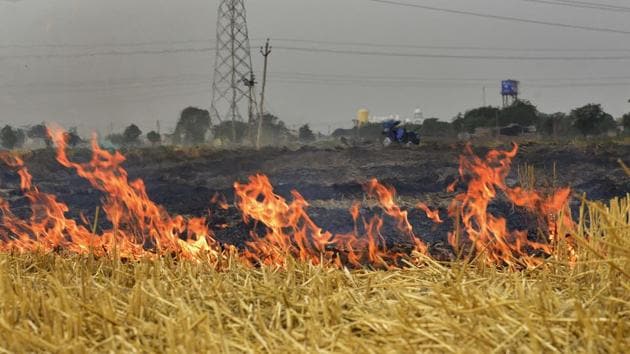 New research by Delhi-based CSIR-National Physical Laboratory (NPL) found that an increase in aerosol optical depth (AOD), which indicates the amount of direct sunlight that is prevented from reaching the earth's surface by aerosols particles, has reduced solar ultraviolet (UV) radiation over the country's capital. Aerosols are solid and liquid particles in the atmosphere originating from burning of agriculture waste and fossil fuels, and natural sources like windblown dust storms, volcanic ash and sea salts.
"The ever increasing aerosol pollution over Delhi (due to industrialisation and urbanisation) during last one and a half decade might be one of the main reasons for decreasing trend of UVA and UVB. Such a significant decrease in UVB surface radiation over Delhi is alarming and may be related to Vitamin D deficiency in human population over the region," stated the study whose principal investigator Sachchidanand Singh is affiliated to the environmental sciences and biomedical metrology division, CSIR-NPL.
The study was published in Atmospheric Environment, an international peer reviewed journal, last month.
Solar ultraviolet radiation in the range of 100 nanometres (nm) to 400 nm is divided into three bands, UVC (100–280 nm), UVB (280–315 nm) and UVA (315–400 nm). Using monthly data retrieved from Clouds and Earth Radiant Energy System (CERES) developed for NASA's Earth Observing Satellite, between March 2000 and February 2016, the six-member team found an average 10% decrease in UVA and 20% decrease in UVB with an increase in AOD. More than 90% of UV reaching the earth's surface is UVA; excess exposure is linked to health effects on the skin, eyes and immune system. UVB –most of which is absorbed by the earth's atmosphere – is a major source of vitamin D in humans.
Various international and national studies have linked air pollution to cardiovascular diseases, respiratory ailments, and premature mortality.
Results of NPL-led study assumes significance in the backdrop of an April report by ASSOCHAM Healthcare Committee which pegged that about 8 out of 10 people or 80% of Delhi's population suffers from Vitamin D deficiency with the highest concentration among those in the age group of 21-35 years.
Low Vitamin D levels can lead to bone mineralisation resulting in bone softening diseases such as rickets among children, and osteomalacia and osteoporosis in adults.
Experts said rising levels of air pollution in Delhi has restricted its citizens to indoors resulting in lower than required level of exposure to the sun, which leads to Vitamin D deficiency. "Vitamin D is a very important fat soluble nutrient which helps ensure that the body absorbs and retains calcium and phosphorus. Both calcium and phosphorous are critical for bone formation and maintenance. Muscle strength is also affected by Vit D levels in our body," said Shweta Khandelwal, senior research scientist and associate professor, Public Health Foundation of India, Delhi.
"Exposure to outside air pollution, especially PM2.5 (aerosols), is already linked to increasing number of health impacts. Linking AOD to the decrease in UV over the past 17 years is an important finding, further emphasizing the urgency to address air pollution problem at source," said Sarath Guttikunda, founder-director, Delhi-based UrbanEmissions.info, who was not involved in the study.
Satellite and ground-based observations show a decrease in UVA and UVB in October and November due to high AOD levels, which research attribute to fossil fuel and biomass burning in north India. Maximum UVA and UVB radiation was during summer with highest in May and minimum in January. The CERES UVA and UVB data were compared with the measurements at NPL Delhi during October 2012 to September 2015 and were found to be in good agreement.
Results showed that the daily average AOD (at 550 nanometres) ranged between 0.12 and 2.5 over Delhi during the study period. AOD levels in October and November was more than 1 that led to a decrease in UVA and UVB from reaching the earth's surface.
The National Oceanic and Atmospheric Organisation (NOAA), US, categorises AOD of 0.01 as extremely clean atmosphere, and 0.4 and above implies hazy conditions.
During 2000-2016, an increase of 0.09 AOD resulted in a decrease of about 1.20 watt per square metre (W/m2) in UVA and 0.05 W/m2 in UVB reaching the earth's surface. Watts per square metre is the amount of power (or energy per second) that flows across a square metre surface.
Trend analysis of monthly average for 17 years showed that UVA and UVB is decreasing at the rate of 0.07 W/m2 and 0.003 W/m2 every year with a 0.005 increase in AOD every year over Delhi.
Along with AOD data, the team also retrieved cloud optical depth (COD) from the Moderate Resolution Imaging Spectroradiometer, which is payload aboard NASA's Terra and Aqua satellites, to analyse the effect of atmospheric opacity on UV radiation. COD measures the scale at which clouds prevent light from passing and reaching the earth's surface.
The daily average COD (at 550 nanometres) ranged between 0.07 and 30. NOAA defines COD as higher the optical depth, thicker the clouds.
AOD peaks in May and June due to dust storms, and as a result of local fossil fuel and biomass burning in October and November. As for COD, high value of more than 10 is seen during cloudy months of July-August and in December-January owing to foggy skies. AOD and COD values are low in February and September when skies are clear.
"Our study indicates that the CERES-derived UVA and UVB surface fluxes compare well with ground-based measurements over Delhi. Therefore, these satellite products could be used for long term trend analysis over the entire region and for connecting UVB and reported Vitamin-D deficiency over the tropical region," stated the study.
Guttikunda said there can be no short-term solutions to the problem of air pollution. Long-term solutions include promoting public transport, walking, and cycling; immediate implementation of environmental standards for heavy and light industries; greening of roads; waste management and alternatives to firing fields. "One must note that firing fields takes place two-three weeks in a year, while rest of the sources emit all 52 weeks," he said.
"Policy interventions for air pollution in general need to have a joint public health nutrition and environment lens. It is imperative to have policy makers from various ministries or departments like health, nutrition, agriculture and environment to sit in the same room and think of sustainable strategies to address these issues," said Shweta Khandelwal, senior research scientist and associate professor, Public Health Foundation of India, Delhi.
Exciting news! Mint is now on WhatsApp Channels
Subscribe today by clicking the link and stay updated with the latest financial insights!
Click here!