Breaking tradition: 16 women from Maharashtra leave for Haj without male guardian
Another group of women from Nagpur, Wardha and Mumbai are travelling with companions who they saw for the first time at a meeting that took place ahead of Haj.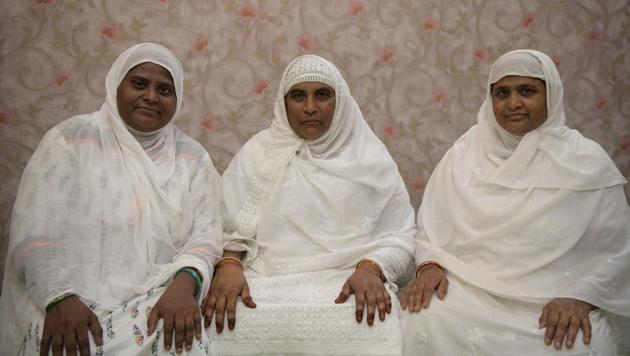 Updated on Aug 11, 2018 10:29 AM IST
Hindustan Times, Mumbai |
Yesha Kotak
Shamshadabai Isarail Sayeed, 62, is among the first groups from Maharashtra to visit Haj, the annual pilgrimage to Muslim holy sites in Saudi Arabia, without a mehram (husband or male blood relation as guardian). She is worried about how she and her sisters-in-law and aunt will make do at the holy cities, and requests journalists to tell the travel and diplomatic authorities to take care of them.
Unlike her, her sister-in-law Taiyyabhi Hamid Sheikh is determined to make the most of the trip. Being the youngest in the group, Sheikh's family looks up to her to take care of the other women travelling along with her. "Wahan jaa ke dekh lenge aur kar lenge. Karna to padega (When we reach there, we will manage. Only, we have to do it)," Sheikh said.
For these women, the idea of going for the pilgrimage this year is an 'emotional one' because Sayeed's husband, who was suppose to be their mehram, passed away last year. This was why Sayeed's son Jakeriya Isarail had decided that he would be their companion. But he changed his decision after he was told that a new rule allows women to travel without the mandatory male companion if they are in a group of four.
"They are hesitant because it is difficult for them to accept that they are travelling without a male companion. They are worried about what people in the community would think about them breaking this tradition. But, we want them to go, so that they set a good precedent for other women," says Nazeen Sayeed, their daughter-in-law.
Another group of women from Nagpur, Wardha and Mumbai are travelling with companions who they saw for the first time at a meeting that took place ahead of Haj. "My mother wanted to go, and it is not always possible for someone to accompany them. In such cases, their wish remains unfulfilled. Now, we are glad she got company and went to Haj," said Rafik Sheikh Hingni, whose mother Hamida Chand Sheikh left for Haj earlier this month.
The applications of the first group of women from Mumbai leaving for Jeddah — the entry point for the holy sites — were approved on Saturday morning. Last year, their applications were rejected in the lottery system, which has been revoked this year for women.
The development comes after the Saudi government earlier this year allowed women to perform Haj without a mehram.
Haj officials said women did not have to worry about arrangements in Saudi Arabia. "We have made special provisions for women travelling without mehram. They will stay in a separate building at Mecca and Medina, and for the first time, 13 Khadim-ul-Hujjaj (personal caretakers) have been assigned to assist them," said Maqsood Ahmed Khan, chief executive officer, Haj Committee of India (HCOI).
Acceding to earlier data provided by the minority affairs ministry, around 1,300 women will travel to Haj for the first time without mehram; of them 1,000 are from Kerala.
"Why should we be worried? There are so many females from Kerala in Saudi Arabia. The restrictions cannot be applicable for a person like me who has lost her husband and father. How would I have gone otherwise if it wasn't for this provision?" said a retired teacher from Mohammed Ali Road, travelling along with her sisters.
Religious leaders are divided over the new rule.
"The Saudi government is doing too many things that are against the Shariat. Even if women go for Haj, it is not accepted when they are going without a mehram," said Maulana Syed Moinuddin Ashraf, founder of the Maharashtra Muslim Front.
"No where in Islam, it is said that women cannot go for Haj alone. In fact, Islam approves of this decision. We are glad that the Saudi government approved it," said Maulana Yasoob Abbas, spokesperson of the All India Shia Personal Law Board.
Close Story