CBSE Class 12 results: Mumbai misses top rank for fourth time
Published on May 26, 2018 11:37 PM IST
In Mumbai, all three toppers from the science, commerce and humanities stream belong to Delhi Public School, in Nerul.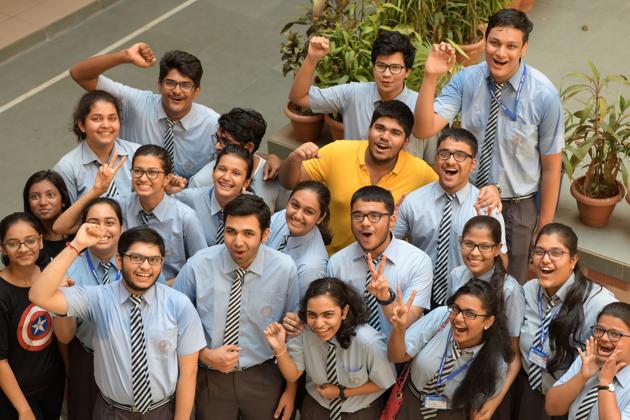 Despite being forced to conduct a re-examination for their Class 12 Economics paper, the Central Board of Secondary Education (CBSE) announced results as per schedule. No student from Mumbai has made it to the top ranks nationally for the fourth consecutive year. However, the overall performance of students across India improved by 1% this year compared to 2017.
In Mumbai, all three toppers from the science, commerce and humanities stream belong to Delhi Public School, in Nerul. The top position was bagged by Arpit Singh who scored 98.6% in the board exam. "I've spent the last two years focusing more on the Joint Entrance Examination (JEE) and that helped me cover the entire Class 12 syllabus as well," said Singh. "Our school made sure that regular mock tests were conducted which gave us the confidence to appear for the board exams." Singh plans to pursue electrical engineering at a leading Indian Institute of Technology (IIT).'
Students from the Chennai region (which includes Maharashtra) along with Thiruvananthapuram and Delhi regions took the top three spots. While the all-India pass percentage of CBSE Class 12 students increased by only 1%, the total number of students who scored above 90% shot up this year. A total of 72,599 students cleared the 90% mark and of them, 12,737 students scored between 95-100%. "The number of students scoring above 90% this year is much higher than 2017, so students had more reason to celebrate the results this year," said Nikita Bajaj, from R N Podar School, Santacruz. "The overall scores in most subjects also seem to be better than last year," she added.
While principals were happy with the overall scores, many pointed at the mathematics scores as the 'sour point' of 2018's result. "Students have overall done very well in the exams but in many cases, the mathematics score has pulled down individual scores of students," said Raj Aloni, principal of Ramsheth Thakur Public School, Kharghar.
Police investigations revealed that in March 2018, some students in Delhi had received the Economics question paper almost 40 minutes before the examination. The exam which was originally scheduled for March 26 had to be re-conducted on April 25 across the country. Students were initially worried about the level of difficulty of the re-exam, but on the day of the exam, most were happy with the outcome. "In fact, the scores are also much better than what students had expected. Many thought that if the paper was easy, the assessment would be difficult but the board has been generous with marks," said principal Rakesh Joshi of Apeejay School in Nerul.