Mumbai's Charkop mangroves breathe easy as citizens clear 6,000kg trash, plastic waste
Jun 25, 2018 11:57 AM IST
Since January this year, the state cell has also removed over 9,000 tons of trash between January 1 and May 31 from nine locations
Over the past month, like-minded citizens and 12 non-governmental organisations (NGOs) joined hands to remove 6,000 kg trash, mostly comprising plastic, from a 10-acre mangrove patch and a water body at sector 8, Charkop in Kandivli (west).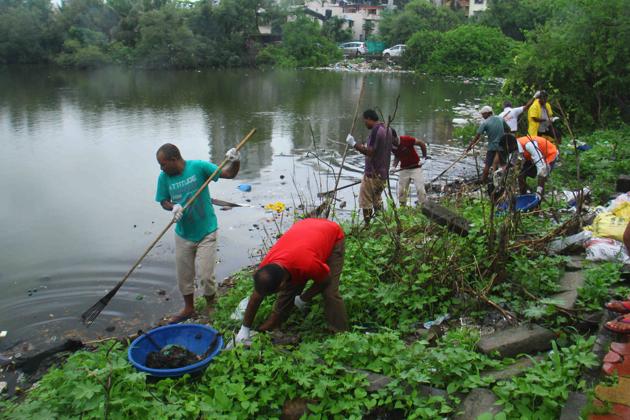 The group has been supported by the Wildlife Crime Control Bureau (WCCB), the state forest department and the Brihanmumbai Municipal Corporation (BMC) as they participated in the cleanup on June 3 and on Sunday.
Armed with gloves and caps, the groups collected 30 large bags (weighing 100 kg each) during the first cleanup drive as a run-up to World Environment Day. "We decided to make this a continuous drive so that this natural area remains garbage free and request citizens not to make such natural spots a dumping ground," said Kishore Shetty, one of the residents.
The Charkop mangroves, protected as reserved forest, is home to over 250 bird species, reptiles, crustaceans and fish, according to the Bombay Natural History Society (BNHS). The area has been under threat with several destruction cases reported over the past year, and fires lit purposely to remove the salt tolerant plants and construct illegal structures. So far, 2,500 encroachments have been removed from the Charkop mangroves.
"For the longest time, we had been witnessing the unnecessary destruction of this natural area through recurring fires and hacked trees and needed to do something about it. So, we came together as a group and were supported by authorities to ensure this important bird habitat is protected," said Mili Shetty, one of the residents who has led the cleanup and has been an environmental crusader in safeguarding the Charkop mangroves. "Mumbai's ecology continues to be under threat, and we as citizens need to take up the mantle for ensuring cleaner air and healthy surroundings."
The state mangrove cell, through a detailed assessment of mangrove patches in the Mumbai Metropolitan Region (MMR) through daily cleanups, has identified that over the years at least 50,000 tons of plastic is strewn within the mangrove patches.
Since January this year, the cell has removed over 9,000 tons of trash between January 1 and May 31, mostly comprising of plastic waste, from nine locations. "The trash is generally stuck to the breathing roots of mangrove trees. When they are removed and the roots are free, there is better nourishment of these trees and also controls flooding during monsoon," said N Vasudevan, additional principal chief conservator of forest, state mangrove cell.
NGOs such as the RiverMarch group, Charkop sector 8 Vikas Samiti, Aarey Conservation Group, SARRP India, Rashtriya Swayam Sagh, Vall Foundation, Plant and Animals Welfare Society - Mumbai (PAWS-Mumbai), Amma Care Foundation (ACF), and local resident groups have all contributed to making this patch garbage-free.
"Not only beaches, rivers but small water bodies play a very important role for our ecosystem as there are many native birds survive on them and it is their natural habitat. So it is our duty to protect such places," said Sunish Subramanian Kunju, wildlife warden of Mumbai city.
"With this year's World Environment Day theme as 'Beat plastic', our volunteers have taken active participation in cleanup drives at Charkop, Pench Tiger Reserve and Marwe beach.
With areas like Charkop that have a good biodiversity but it is being lost to plastic, we have raised awareness about protecting such spots and also highlighted wildlife conservation and trade-related awareness with all cleanup volunteers. This will now be a regular initiative from our side," said M Maranko, additional director, Wildlife Crime Control Bureau.
"BMC has taken active steps to provide manpower and equipment for cleanup at Charkop. When citizen groups come forward with such efforts, it automatically boosts the civic body's endeavour to preserve green spaces. This momentum will go a long way forward," said a senior civic official.
The area's corporator Sandhya Doshi visited the site and gave several assurances such as restoring its natural ambience and putting up a banner to prevent people from littering the area.
"Exciting news! Hindustan Times is now on WhatsApp Channels
Subscribe today by clicking the link and stay updated with the latest news!"
Click here!