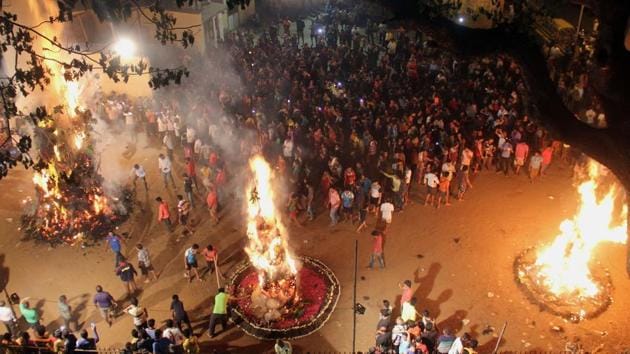 Cutting trees for Holi bonfire? Mumbai civic body will send you to jail
Last year, the air quality index (AQI) in Mumbai on the day after the bonfires touched 315, falling under the 'very poor' level
UPDATED ON FEB 28, 2018 09:42 AM IST
Cutting trees or branches for Holi bonfires (on March 1) will invite punishment under the tree preservation law, the Brihanmumbai Municipal Corporation (BMC) warned citizens on Tuesday. Citizen groups also urged Mumbaiites not to burn Holika or bonfires – ritual that is part of Holi celebrations -- as it worsens the city's air quality.
According to the BMC's notice, those found felling trees or branches will face imprisonment for a term of one week up to 1 year, and will have to pay fines ranging from Rs1,000 to Rs5,000 as per the guidelines of the Maharashtra (Urban Areas) and Preservation of Trees Act, 1975.
"We have directed our horticultural assistant to ensure tree felling activity is stopped and violators are penalised. Our officers will be on duty from Wednesday onwards to check illegal tree felling. While the number of cases has reduced significantly compared to previous years, four to five tree-felling cases were recorded in 2016 and 2017. We will ensure a cap on all such incidents," said Jitendra Pardeshi, superintendent of gardens, BMC.
Last year, the air quality index (AQI) on the day after the bonfires touched 315, falling under the 'very poor' level. The burning releases harmful gases such as carbon dioxide (CO2), carbon monoxide (CO), nitrogen dioxide (NO2) and particulate matter (PM) than can enter the lungs and cause respiratory ailments.
"Some societies have agreed to keep celebrations eco-friendly. Using dry colours during the festival is a mandate that we are asking societies to follow," said Godfrey Pimenta, trustee, Watchdog Foundation.
"It makes no sense to have large fires in Mumbai as it will further deplete the already poor air quality. Having one symbolic community bonfire is the need of the hour," said Stalin D, director, NGO Vanashakti.
Close