Extremely heavy rainfall expected in Mumbai this weekend, stay indoors: IMD
Updated on Jun 06, 2018 11:07 PM IST
City may see over 200mm rain in 24 hours from June 9 onwards; thundershowers expected in city on Wednesday and Thursday, too.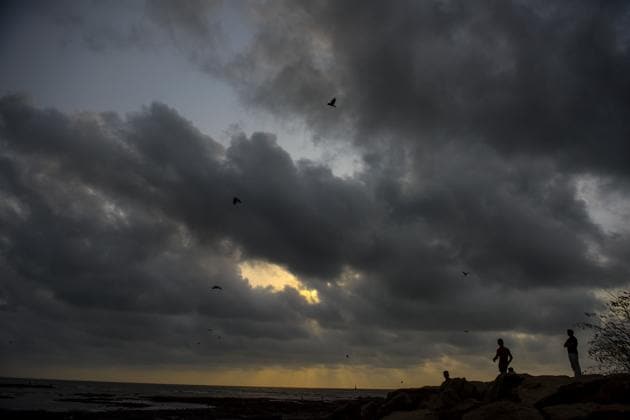 The weather bureau has issued an 'extremely heavy' rainfall alert for the city from June 9 to 11 (Saturday to Monday), and has asked citizens to stay indoors as much as possible on these three days.
Under the India Meteorological Department's (IMD) classification, 15.6mm to 64.4mm of rainfall in 24 hours is considered moderate, 64.5mm to 115.5mm is heavy, 115.6mm to 204.4mm is very heavy and more than 204.5mm qualities as extreme.
"Widespread rainfall activity with over 75% of weather stations reporting heavy to very heavy rainfall is likely over south Konkan and Goa from June 7 onwards. Weather systems will gradually extend over north Konkan, including Mumbai, from Friday onwards, and continue till June 12 [Tuesday]," said KS Hosalikar, deputy director general, western region, IMD. "Between Saturday and Monday, the maximum intensity of rainfall is expected over Mumbai and the surrounding areas, with heavy to very heavy rain; the possibility of extremely heavy rainfall in isolated areas cannot be ruled out."
The advisory released by the IMD reads: "Active to vigorous monsoon conditions are likely to prevail, leading to persistent very heavy rainfall along the west coast, especially between June 10 and 11. In view of intense rainfall forecast, people are advised to abstain from outdoor activities as much as possible during the period and also watch for weather updates from Regional Meteorological Centre, Mumbai."
Heavy to very heavy rainfall is also forecast in central Maharashtra between Thursday and Friday, as well as heavy showers in some parts of Marathwada and Vidarbha, the weather bureau said.
Last year, IMD had issued similar rainfall alerts on August 29 and September 19 — two days when rain brought the city to a standstill, with over 300mm rainfall recorded over 24 hours.
Till Wednesday, the city had witnessed two bouts of pre-monsoon showers, both of which affected flight operations and caused water-logging in parts of the island city as well as the suburbs.
IMD officials said the southwest monsoon has now reached parts of Karnataka, and is gradually moving towards the Konkan coast. Hosalikar said it is still not clear when the monsoon will arrive in Mumbai, but conditions appear favourable for between June 9 and 10. Previously, the IMD had said that monsoon was expected over the city by June 7, three days before its normal onset date.
The city recorded no rainfall on Tuesday, but the weather bureau has issued a forecast for rain or thundershowers over north Konkan, including Mumbai, on Wednesday and Thursday.
Personalise your news feed. Follow trending topics