Finless porpoise washes ashore at Vasai, 3rd marine mammal death in 2017
Updated on Feb 27, 2017 12:26 AM IST
Over the past two years, close to 30 dolphin carcasses, six whale carcasses and a few finless porpoises have washed ashore along the Mumbai and Maharashtra coast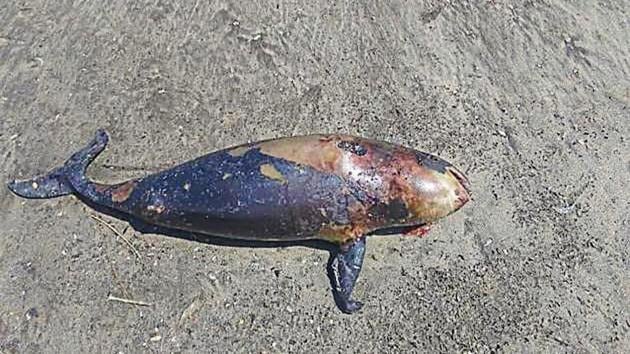 The carcass of a four-foot-long finless porpoise washed ashore at Bhuigaon beach, Vasai on Saturday morning.
This was the third mammal death in 2017, after the carcass of a three-foot-long finless porpoise washed ashore opposite Taj Hotel, Nariman Point on January 15 and a five-foot-long dolphin carcass washed ashore at Nariman Point on January 1.
Porpoises have smaller mouths and spade-shaped teeth, as opposed to dolphins that have prominent, elongated beaks and cone-shaped teeth. A dolphin has a curved dorsal fin, while a porpoise has a triangular dorsal fin.
Locals spotted the mammal on Saturday around 10.30 am and informed local fishermen.
"After deep-sea oil companies started surveying the ocean floor for oil. The impact of the firm's machines have made it difficult for mammals to navigate the ocean and this is probably what caused their deaths," said Dileep Mathak, a fisherman from Vasai.
Mathak added that before the fishing community could inform the forest department, the high tide pulled the mammal's carcass back to sea.
Over the past two years, close to 30 dolphin carcasses, six whale carcasses and a few finless porpoises have washed ashore along the Mumbai and Maharashtra coast. The cause of their deaths have not yet been ascertained.
Read
Mumbai: Carcass of dolphin-like mammal washes ashore near Gateway of India
Personalise your news feed. Follow trending topics