IMD takes U-turn, waters down heavy rain forecast for Mumbai
A few spells of rain and showers is likely over the city and suburbs for Thursday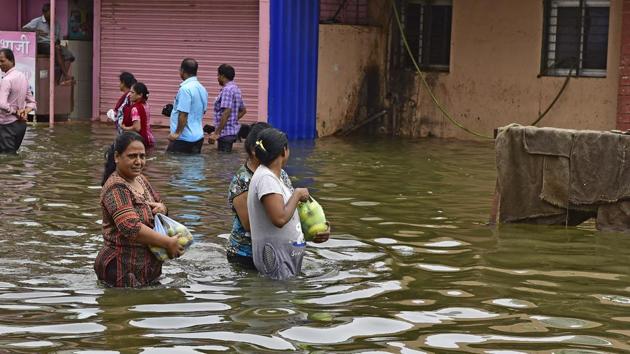 Updated on Jul 12, 2018 10:51 AM IST
After three days of heavy to very heavy rain over Mumbai, the city got respite on Wednesday as only mild showers were recorded.
On Tuesday, the weather bureau had issued continuous heavy to very heavy rainfall warning for Wednesday but withdrew the warning only at 6pm Wednesday even though the city and suburbs recorded negligible overnight rain between Tuesday night and Wednesday morning.
Between 8.30am and 5.30pm Wednesday, the Colaba weather station recorded 1.2mm rain while 4.5mm rain was recorded in Santacruz. Overnight rain between 8.30pm Tuesday and 8.30am Wednesday was 3.2mm in suburbs and 1.6mm in south Mumbai.
A few spells of rain and showers is likely over the city and suburbs for Thursday, read India Meteorological Department's (IMD) fresh forecast from Wednesday evening.
"There was rapid change in weather systems over the north Konkan coast over the last 24 hours with the upper air cyclonic circulation, both over south Gujarat and Chhattisgarh, moving over northern parts of the country," said KS Hosalikar, deputy director general, western region, IMD. "However, an increase in rainfall activity is expected from Friday onwards as a low pressure area (weather system) is developing over the Bay of Bengal, which can increase moisture incursions over the west coast."
In the last 24 hours, between 8.30am Tuesday and 8.30am Wednesday, 114.4mm rain (heavy) was recorded in the suburbs, and 41mm (moderate) was recorded in south Mumbai. From Sunday 8.30am to Wednesday 8.30am, Mumbai has recorded a total of 420.3mm rain with very heavy rain recorded from Sunday night to Tuesday evening. During the same time, south Mumbai recorded 377.4mm rain.
Various areas in the Mumbai Metropolitan Region recorded 'very heavy' rainfall in the last 24 hours - between 8.30am Tuesday and 8.30am Wednesday, with maximum at Ulhasnagar at 200mm, followed by Vasai-Virar region at 194mm rain (according to Vasai Virar Municipal Corporation), Thane at 170mm, Ambernath 160mm, Kalyan 150mm, Panvel 140mm, and Uran at 130mm rainfall.
Meanwhile, the day temperature at south Mumbai was a degree Celsius below normal at 29.2 degrees Celsius while the suburbs recorded the maximum temperature close to the normal mark at 30.6 degrees Celsius. The night temperature in the suburbs was 26.2 degrees Celsius, 1.2 degree Celsius below normal, and 25.5 degrees Celsius in south Mumbai, which was at the normal mark. Humidity levels were much lower than previous days.
Close Story