In 4 years, 94,000 mangrove saplings died in Mumbai
Mumbai city news:The state planted mangrove saplings on 300 hectares in Mumbai and Navi Mumbai between 2013 and 2016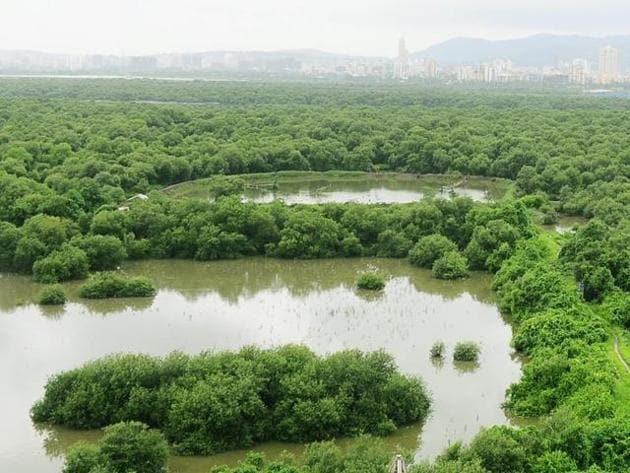 Updated on Jul 14, 2017 12:19 AM IST
Although the Maharashtra government wants to plant 50 lakh mangrove saplings by 2019 to revive degraded wetlands, more than 94,000 saplings planted by the state mangrove cell at Charkop and Malwani have died in the past four years.
Rampant mangrove destruction cases — at least two per week — are being recorded in the state. The destruction continues despite Bombay high court orders and laws such as the Environment Protection Act, 1986 and Indian Forest Act, 1927, which are supposed to protect the mangrove ecosystem.
The state planted mangrove saplings between 2013 and 2016 across 300 hectares in Mumbai and Navi Mumbai. While 84,000 saplings were planted near Charkop village on 19 hectares — all of which died, 20,000 saplings were planted near Manori village of which 10,000 saplings died over the past four years . State officials said 85% of the saplings planted in Navi Mumbai have survived.
"Some of the saplings in these two areas (Manori and Charkop) have been removed by local villagers, while others did not survive. We ensured that proper channels for tidal water were made for these mangroves, but they failed to rejuvenate," said N Vasudevan, additional principal chief conservator of forest, state mangrove cell. "On the other hand, saplings in Navi Mumbai either regenerated on their own or survived due to our protection."
Locals from Charkop village said that they had warned the mangrove cell while plating saplings in 2013.
"We had told the officials that planting mangroves is not a good idea here because the soil is hard and the plants require mudflats to survive. Four years later, not a single sapling has survived," said Vivek Keni, a Charkop village resident.
According to the mangrove cell, the cost of plating [1,000] saplings in one hectare cost Rs2 lakh.
Commenting on the poor survival rate of sapling, wetland conservationist Nandkumar Pawar said, "These are not the only locations where mangrove saplings have died. We are currently surveying all plantation sites and will compile a detailed report."
He recently sought information on the status of mangrove saplings under the Right to Information (RTI) Act.
Other activists said the saplings were dying because of negligence.
"The first problem is that the [mangrove] cell is understaffed and lacks people to monitor these saplings. Secondly, the filed officers lack basic scientific understanding or knowledge to restore such sites," said Harish Pandey, activist and secretary, New Link Road Residents' Forum.
HT had reported last week that 50,000 saplings had been planted in Airoli, Vashi and a few other parts of Navi Mumbai before the monsoon. The mangrove cell wants to plant one lakh saplings in October and November and another 19 lakh in 2018. The state also intends to plant 30 lakh saplings in 2019 to restore a large portion of mangroves ecosystem lost in the past 10 years.
2 arrested for dumping debris at Malwani mangroves
Mangrove cell officials from Mumbai (West) arrested two people for illegally dumping debris on a 100 square metre plot at Malwani on Tuesday.
"Locals informed our officers that a truck had entered the protected mangrove forests. During interrogation, the accused told us that they were hired by a local builder. We are investigating the matter," said Makarand Ghodke, assistant conservator of forest, Mumbai Mangrove Conservation Unit.
Close Story
Personalise your news feed. Follow trending topics